Description
Join us Aug 26 from 7 pm for the BIG fight: Mayweather v McGregor.
***SOLD OUT***
We're now sold out but, in case tickets become available, you can join the wait list!
Drinks / food specials for all match fans!
About the Fight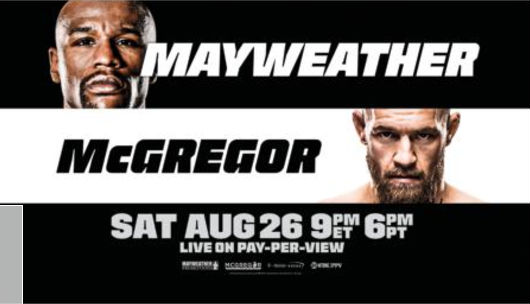 Floyd Mayweather Jr. vs. Conor McGregor, also known as "The Money Fight", is an upcoming professional boxing bout between undefeated eleven-time five-division professional boxing world champion Floyd Mayweather Jr. and the current UFC Lightweight Champion Conor McGregor. It will take place at the T-Mobile Arena in Paradise, Nevada on August 26, 2017.
Mayweather is expected to earn at least $100 million, increasing up to four times that amount if the event achieves all of its metrics. McGregor is expected to earn $75 million, but both men signed NDA's barring them from publicly communicating the financial details.
PLEASE NOTE: YOUR TICKETS GUARANTEES ENTRY INTO KRAMER'S TO WATCH THE FIGHT. IT DOES NOT ENSURE TABLES OR SEATS. TO RESERVE YOUR TABLE, CALL THE BAR: 4164830697