Fly like an Eagle! How to become a glider pilot

Saturday, 26 November 2016 from 4:30 PM to 5:00 PM (EST)
Event Details
Soaring, or gliding, is an exhilarating sport and a green and affordable way of flying. It could be yours too.
After mastering the piloting skills of flying without engine, you can learn to really soar like an eagle and stay airborne for hours and fly hundreds of kilometres. As you gain experience you will learn to read the weather and find subtle clues in the clouds, to make the best use of the awesome powers of sun and wind, to navigate to previously unvisited places... The intellectual challenge and invitation for adventure, besides the sheer beauty of soaring, is what gets most glider pilots hooked to this unique sport that offers a sense of freedom second to none.
Glider Pilot Theory Course
Montreal Soaring Council offers you a Glider Pilot theory course, organized in collaboration with the McGill Flying Club. The course will prepare you for the Transport Pilot "Glide" written exam and comprises 20 hours of lectures and an exam preparation and Q&A session. Classes take place at McGill University on Saturdays 9:00am-3pm between February 20 and April 9th, 2016.
Free Information Seminar
To hear what soaring is about, how you can become a glider pilot and to sign up for the Glider Pilot Theory Course, come see us at the free information seminar, Saturday January 30th, 2016, at 1:00pm in the McGill UnivMcConnell Building (Engineering). 

Please do sign up for the seminar, so you have a seat and we can inform you of any last minute changes.
About Us
Montreal Soaring Council is one of the larger gliding clubs in Canada. We are based in Hawkesbury, ON. We operate from May through October and provide flight training with qualified instructors on modern two-seater gliders.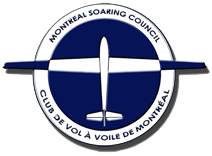 The seminar and Glider Pilot Theory Course are organised with the kind support of the McGill Flying Club.
When & Where

McGill University
McConnell Engineering Building
3480 University Street
Montreal, QC H3A 0E9
Canada

Saturday, 26 November 2016 from 4:30 PM to 5:00 PM (EST)
Add to my calendar
Organizer
Le Club de Vol à Voile de Montréal (CVVM) est basé à l'aéroport de Hawkesbury, ON. Les activités de vol ont lieu chaque fin de semaine de mai à octobre, tant que le météo le permet. Pendant les mois d'été on vole presque chaque jour. Le CVVM est une organisation sans but lucratif; son opération dépend complètement de la participation volontaire de ses membres.
 Montreal Soaring Council (MSC) has its home base airfield in Hawkesbury, ON. The gliding club's activities take place each weekend from May through October, weather permitting. During the summer months we fly almost every day. MSC is a non-profit organisation; its operation relies fully on the volunteer participation of its members.