Description

NOW more than ever, man is leveraging technology to take to the skies in unprecedented ways. Learn about the Alberta-based advancements with global impact in aerospace and Unmanned Aerial Vehicles (UAVs) in a morning workshop and panel discussion with ASTech Awards alumni.
Two options to participate:
Purchase a ticket to attend the live event at SAIT, 8:30am - noon OR

Purchase access to the live-stream webcast of the entire event and watch it from your own computer, including the option of submitting quesitons to the live panel discussion and Q&A.
Come be inspired, network and learn from our speakers: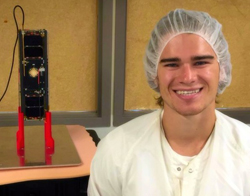 Tyler Hrynyk, AlbertaSat's Ex-Alta1 Project Manager. AlbertaSat, an undergrad project at the University of Alberta, recently launched the first Alberta cube satellite from the International Space Station to collect data from the lower thermosphere. AlbertaSat won the 2016 ASTech Special Award for Group Innovation Under 30.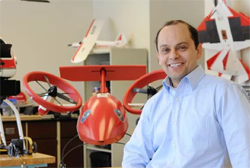 Dr. Alex Ramirez-Serrano, the Founder and President of 4Front Robotics and a mechanical engineering associate professor at the University of Calgary. 4Front is bridging the gap between UAV research and commercial uses in forestry, pipeline and environmental monitoring, oil and gas imaging and more. Dr. Ramirez-Serrano won the 2014 ASTech Applied Technology Award, sponsored by SAIT.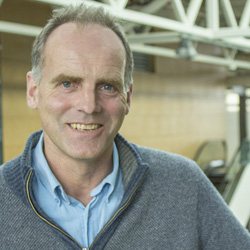 Dr. Ken Whitehead, research lead from SAIT's Centre for Innovation and Research in Unmanned Systems (CIRUS). The CIRUS team provides state-of-the-art research and development expertise focused on novel applications of UAV technology, sensors, and UAV data. A CIRUS team member won the 2015 ASTech Innovation in Agricultural Science Award, sponsored by Dow AgroSciences Canada.
MC: Rick Tofani, Director, Applied Research and Innovation Services, SAIT.
8:30am: Continental breakfast and networking

9:00am: Tyler Hrynyk: The launch and early operational phase of Ex-Alta 1's participation in the QB50 mission, coordinated by the Von Karman Institute in Brussels, Belgium

9:45am: Dr. Alex Ramirez-Serrano: Fast transitional drone systems for confined spaces and time-critical missions.

10:30am: Dr. Ken Whitehead: An overview of current practical applications in UAV technology in search and rescue, animal tracking, construction management, methane sensing as well as requirements for flying in Canadian airspace.

11:00am: Panel discussion and Q&A

11:45am: Wrap up
The Alberta Science and Technology (ASTech) Foundation inspires the next generation of innovation in science and technology in Alberta. Our strategic focus is to celebrate, advance and grow the culture of innovation on a year-round basis through the ASTech Awards, the NextGen Innovators Showcase, the Alumni Speaker's Bureau and Speakers Series, Industry Showcases and Humans of Alberta Innovation.
Thank You to our Event Sponsors: