Rencontrez face à face avec les recruteurs bilingues.
About this event
Êtes-vous à la recherche d'un emploi?D'une nouvelle carrière? Êtes-vous bilingue? Ne manquez pas!
FOIRE D'EMPLOI BILINGUE DE MONTREAL.MONTREAL VIRTUAL JOB FAIR
MEET BILINGUAL RECRUITERS.MEET FRENCH HIRING COMPANIES
Un véritable carrefour privilégié d'information, d'échanges et de contacts directs : Des institutions financières aux organismes gouvernementaux, des chercheurs d'emploi aux recruteurs, des professionnels d'affaires aux directeurs des ressources humaines, des établissements d'enseignement aux organismes de conseil et de formation.
QUAND: Octobre 28th, , 2021 | HEURE: 13h – 16h (Eastern Time) SITE WEB: Click Here AUTRES: . February 16th, June 9th, 2022.
JOBS POSTED BY EXHIBITORS: APPLY NOW
FREE ADMISSION FOR JOB SEEKERS
EMPLOYER REGISTRATION CLICK HERE
EMPLOYER SOLICITATION IS NOT ALLOWED AT THE JOB FAIR
PAST EXHIBITOR: JULY 29TH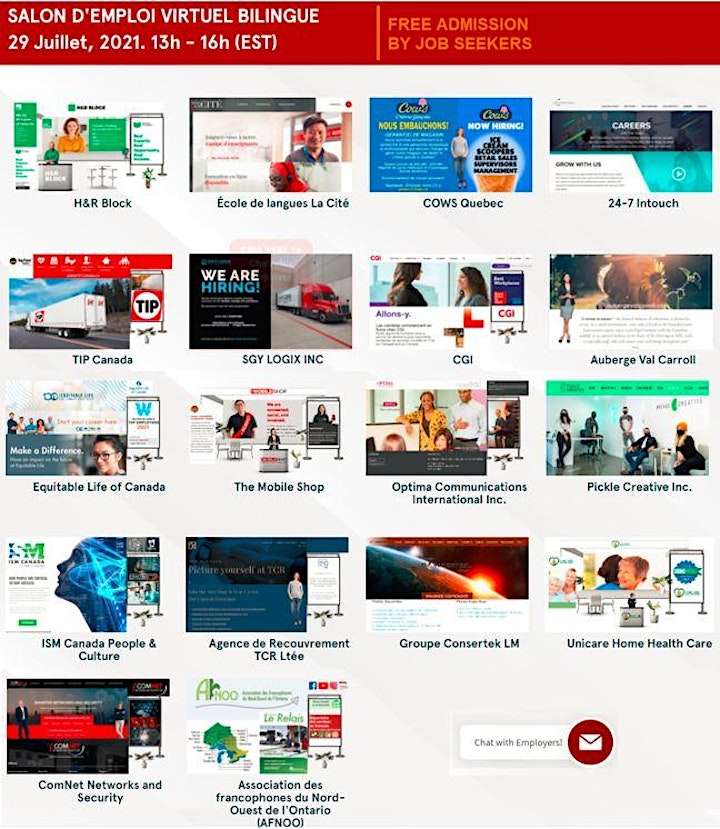 VIEW THE PAST JOB FAIRS
Organizer of Foire D'emploi De Salon Emploi Bilingue - Jeudi 28 Octobre 2021
Canada's most established and most attended Career Fairs in the country.  We host more than 75 Career Fairs yearly, bringing together over 500 Exhibitors and thousands of Job Seekers across Canada and international. We connect Candidates and Organizations looking for employment, education and training opportunities across Canada. We create possibilities for career advancement, continuing education and personal development. We organize multi-sector recruitment events open to all local, regional, provincial, national and international organizations.