Rencontrez face à face avec les recruteurs bilingues.
About this event
Êtes-vous à la recherche d'un emploi?
D'une nouvelle carrière? Êtes-vous bilingue? Ne manquez pas!
FOIRE D'EMPLOI BILINGUE DE MONTREAL.
MONTREAL VIRTUAL JOB FAIR
MEET BILINGUAL RECRUITERS. MEET HIRING COMPANIES
Un véritable carrefour privilégié d'information, d'échanges et de contacts directs : Des institutions financières aux organismes gouvernementaux, des chercheurs d'emploi aux recruteurs, des professionnels d'affaires aux directeurs des ressources humaines, des établissements d'enseignement aux organismes de conseil et de formation.
QUAND: March 9th, 2022 | HEURE: 13h – 16h (Eastern Time)
AUTRES: May 18th, 2022. July 21st, 2022. September 22nd, 2022.
PAS D'INSCRIPTION PRÉALABLE NÉCESSAIRE
Pour plus d'information visiter notre site Web : www.jobscanadafair.com
PAST EXHIBITORS - MONDAY, DECEMBER 6th 2021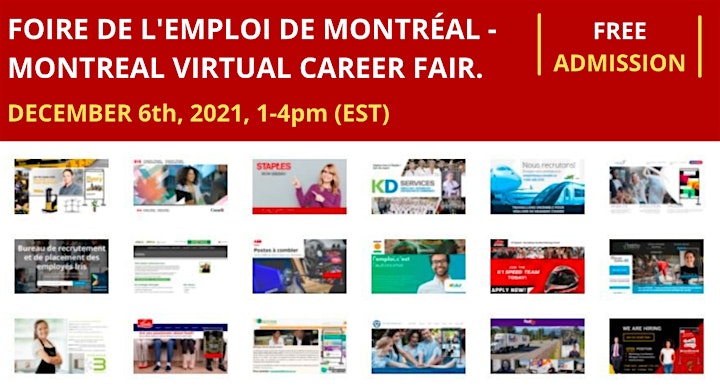 VIEW THE PAST JOB FAIRS
Organizer of Foire D'emploi De Terrebonne - 6 Decembre, 2021
Welcome to Canada's most established and most attended Career Fairs in the country. With 200+ Career Fairs yearly, Jobs Canada Fair connects hundreds of Hiring Companies with thousands of Candidates across the country. We are here to help and support Canada's economy and unemployment market. Our Career Fairs provide opportunities for employement, continuing education, training and entrepreneurship.