Event Information
Refund policy
Refunds up to 30 days before event
Eventbrite's fee is nonrefundable.
This workshop is an introduction to Food Forestry with focus primarily on plants that create resiliency, abundance, and beauty.
About this event
Do you want a garden that is beautiful AND productive? One that creates resilience for you AND your garden?
Growing food CAN be easy, and doesn't have to be high-maintenance, delicate, rows of vegetables! There is an easier, more productive, more resilient way to grow food, that looks and feels more like a nature sanctuary than an industrial farm. By practicing the art and science of food forestry, you have the opportunity to create a garden that looks as beautiful as an ornamental landscape, but provides a diverse and delicious year-round harvest, that only get better and better with time.
Food forestry, aka edible forest gardening, is experiencing a renaissance all around the world, but the truth is that edible forest gardening is an ancient and widespread practice that is many thousands of years old. In fact, food forestry has been called "Gardening for 1000 Years", and in this workshop we will explore why these forest gardens are so resilient, and how that translates to resilience in our personal lives, communities, and society at large.
After introducing the concept of food forestry, we will shine a light on some of the most powerful plants used to create these beautiful, bountiful, low-maintenance edible ecosystems. We will go beyond the plants discussed in our previous two workshops ("Edible Plants for Emergencies" and "Perennial Vegetables & Edible Ornamentals":), highlighting our favourite plants from every layer of the food forest (canopy, understory, shrubs, herbaceous, groundcovers, root crops, vines, and fungi). While this workshop will focus on plants for the Pacific Northwest, most of them will grow across Canada and the Northern USA.
Note: This workshop is an introduction! Beyond the introduction, this course will focus primarily on plants that you can grow to create abundance, beauty, and resilience in your life and landscape.
If you want to take a deep dive, including theory, site observation, planning, design, installation, maintenance, and more, stay tuned for our upcoming: "Grow-Your-Own (Urban) Food Forest - Weekend Workshop" (April 24-15th)
THIS WORKSHOP MIGHT BE FOR YOU IF:
You are NEW to food forestry and edible forest gardening
You are INTERESTED in growing food, but DON'T KNOW WHERE TO START
You ALREADY have a garden that's looking for an upgrade
You've TRIED growing traditional vegetables but have challenging site conditions
You want growing food to be BEAUTIFUL, inspiring, and more like a healing nature SANCTUARY than a high-production farm
You want to learn about UNIQUE and INTERESTING plants you can't find in the grocery store
You are looking for LOW-MAINTENANCE and MULTI-FUNCTIONAL plants
You already have TREES ON YOUR PROPERTY, and want to know what to GROW IN THE SHADE
You are interested in FOOD SECURITY and COMMUNITY RESILIENCE
You are ready to CONNECT with nature in a deeper way, be nourished by FOOD THAT IS MEDICINE, and create a BEAUTIFUL FUTURE for the coming generations.
IN THIS WORKSHOP WE WILL EXPLORE:
Introduction to food forestry/edible forest gardening
Why food forestry has been called "Gardening for 1000 Years"
The layers of the food forest (canopy, understory, shrubs, herbaceous, groundcovers, root crops, vines, and fungi)
Plant options for a multitude of microclimates (sun/shade, windy/sheltered, wet/dry, etc)
Low-maintenance, multi-functional, easy-to-grow edible perennials
Highlight their health benefits for your life and landscape
Succession plan for a long-term, year-round harvest
Resources for selecting and sourcing plants for DIY-ers
About The Instructors @ Edible Landscapes Design Ltd:
We are a team of passionate professionals serving home-owners, businesses, farms, and diy-ers to design, install and maintain edible landscapes that nourish the body, feed the soul, and regenerate the land.
Based in Victoria, BC, our team leverages 25+ years of combined experience and education in design, organic horticulture, tree care, market gardening, farming, restoration ecology, water management, and urban development.
Our lead instructor, Joshua Clae Wagler, is a passionate and sought-after instructor, having offered his educational services to over 1100 students since co-founding Edible Landscapes Design in 2013. He is a teacher at Pacific Rim College's Permaculture & Resilient Ecosystems Program, helped developed the Food Forestry curriculum for the Growing Young Farmers Society, and has been invited to speak at the Horticultural Centre of the Pacific, for the Victoria Hardy Plants Group, Victoria Seedy Saturday Speaker Series (2018, 2019, 2020), The Haven on Gabriola Island, and the Victoria Master Gardeners Association.
WORKSHOP SUMMARY:
1.5 Hour Live Online Workshop
Focused & Applicable Content
Experienced Professional Instruction
Engaging & Entertaining Learning Environment
Holistic Approach with Attention to Detail
EARLY-BIRD TICKETS AVAILABLE (REGISTER NOW TO SAVE YOUR SPOT):
EARLY-BIRD: $30 + tax (Before May 1)
REGULAR ADMISSION: $45 + tax
Feedback from Past Workshops:
"The passion and authenticity of your content is outstanding. It was a pleasure to be in your company thus far and to learn from you."
Deborah Wickins, Professor at University of Victoria
"The kindness shown and offering so much knowledge was so inspiring. All of the information provided and the humour used in the presentation. It was really well presented and the time went by fast! I liked the passion for creating a forest garden. It was contagious ;)"
Deb, "Grow-Your-Own Food Forest Online Workshop"
"Your company goals and the way you present information is very inspiring. It is clear in the way you talk that there is a lot of passion and positivity behind what you do and it's really valuable to me to be a part of it. [...] I left with a lot of information that will be incredibly valuable moving forward.
Stephanie Jacobs '2019 Design to Harvest workshop series'
"Excellent visuals and all the material was easy to follow. [...] They were passionate and presented an excellent workshop that was an inspiration for my future gardening practices."
Bonnie Milbury - retired social worker
"Very informative and thorough. Much grateful for all you shared. [...] Your slides were very well designed and the information was well organized. Great job!"
Maribet Balestena, Architect and Landscape Architect
QUESTIONS? 
EMAIL: office@edible.design
PHONE: 778-747-3318
WEBSITE: www.edible.design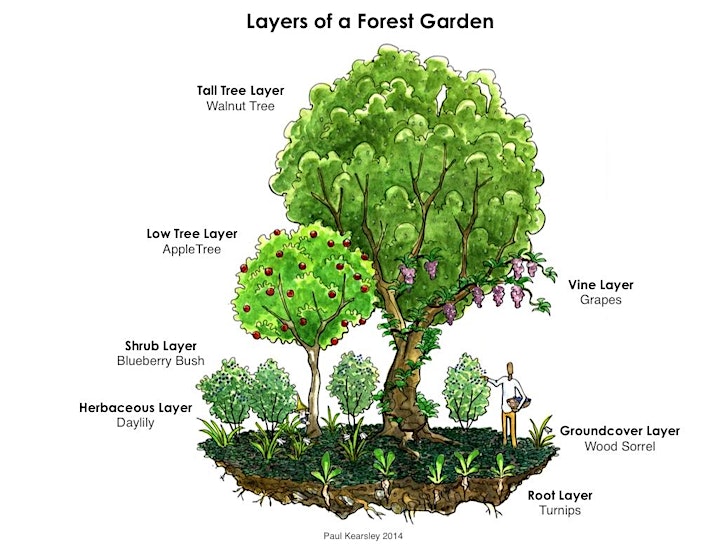 Date and time
Location
Refund policy
Refunds up to 30 days before event
Eventbrite's fee is nonrefundable.