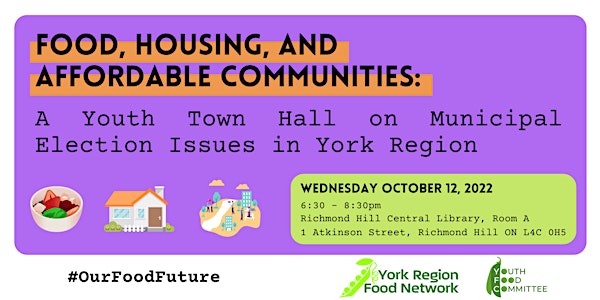 Food, Housing, and Affordable Communities
A Youth Town Hall on Municipal Election Issues in York Region
When and where
Location
Central Library (Richmond Hill Public Library) 1 Atkinson Street Richmond Hill, ON L4C 0H5 Canada
About this event
With a municipal election on the horizon, we're looking for a shake-up!
It's not new information that the voices of young people are frequently overlooked in the planning of our communities, even when our futures are on the table. While many of us are working hard at cultivating awareness, building coalitions, and designing solutions in our neighborhoods, we'd like our municipal leaders to hear our perspectives, too.
As young people of York Region, we are concerned about affordable housing and food issues, including urban sprawl's impact on agriculture and the impact of affordable housing on food security.
Between skyrocketing food and housing prices, we need to plan for equitable housing and food futures to truly resist the many crises of unaffordability. And we need our electoral candidates to hear us before it's too late to take action.
That's why we're hosting a Town Hall this fall, to talk about housing, food and how local planning processes in York Region need to work with young people. We hope you'll join us.
This is #OurFoodFuture.
This event is for but not limited to just....
- Young people living in the GTA (15-30 years)
- We welcome adults to hear what youth are saying when it comes to food security and housing as voting issues for youth
- This is a non-partisan event, candidates running across the GTA are welcome to attend
Stay Connected with us on social media:
@yrfn_youthfoodcommittee on Instagram
@civicschoolgta on Instagram & their Linktree
Accessibility Needs
For any accessibility needs please email morgans@yrfn.ca for additional follow-up by October 3rd
This is an in-person event, but we are aiming to either live stream or record and share online afterwards.
SPEAKERS: