Description
Food in Film presents BIG NIGHT on 35mm!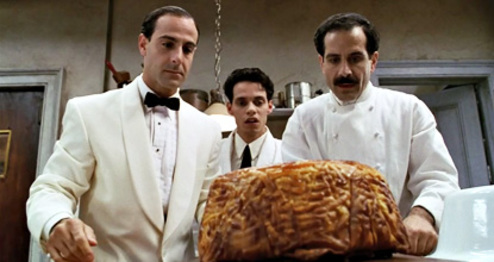 About The Film
BIG NIGHT (1996)
USA 1996 109min R
Directed by Campbell Scott & Stanley Tucci
Starring Stanley Tucci, Tony Shalhoub, Marc Anthony, Minnie Driver
Controversial food opinion: everybody always swoons over the timpano presented in this film, but the simple meal of eggs and toast is far more prophetic, romantic, and indicative of restaurant life than the timpano. And in case you are not familiar with timpano, it is a drum-shaped, pasta dish that combines noodles, salami, sauce, and cheese inside a crust--the recipe for the film comes from director and actor, Stanley Tucci's, mother.
BIG NIGHT is the story of two brothers, Primo and Secondo (yes, first and second), who emigrate to the United States from Italy in the 1950's and open a restaurant: the Paradise. Primo, played by Tony Shalhoub, is the chef, while his brother (played by Stanley Tucci) runs the front-of-house. At a time when Italian food is hot, but still unfamiliar beyond spaghetti and meatballs, the Paradise attempts to drum up business for its cultural cuisine, but continues to fail in the process.
The owner of the rival, Italian restaurant--whose business is flourishing because he "sells out" to his customers' palate--promises the brothers that he will get the famous jazz musician, Louis Prima, to dine at the Paradise if they throw an epic meal for him. To which the brothers set about planning their big night. - CORA JAMES
About The Restaurant
Alimentari Italian Grocery is an Italian, restaurant, grab-n-go, and grocery located in the Roncesvalles neighbourhood, and born out of a shared passion for Italian cuisine by its owners, Christopher and Sarah Terpstra.
About the series
Here's how Food in Film works: The Revue selects a film and partners with a restaurant/chef, who then creates a themed snack to complement the selected film. Your ticket includes both the film and snack! Upon checking in at the cinema on the day of the event, you will be given a Food Ticket, which is redeemable at the serving station inside the cinema! These events tend to sell out, so we advise you arrive early!

Food in Film at the Revue Cinema is sponsored by Meridian Credit Union.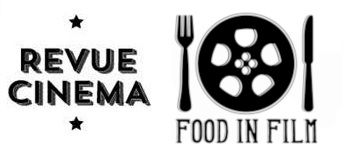 *Your ticket includes the food pairing. Just like a busy restaurant, advance tickets/reservations to the Revue's Food in Film series are required. Tickets will not be available at the door, and membership free screening tickets are not applicable for this event. Doors open at 6:15 PM.