Description
STRANGER THAN FICTION (2006)

Monday, February 13. Doors open at 6PM. Event starts at 6:45PM.
Valentine's Day Edition! Join us for Maggie Gyllenhaal's turn as a pastry chef under audit in STRANGER THAN FICTION with a dessert pairing courtesy Glory Hole Doughnuts.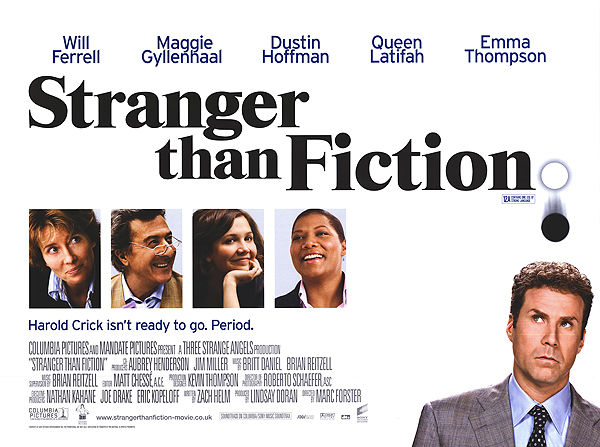 About the Film
Stranger Than Fiction
USA 2006 113min. PG
Directed by Marc Forster
Starring Will Ferrel, Emma Thompson, Maggie Gyllenhaal
There's no better sub-plot than that of Ana Pascal and Harold Crick—two individuals who prove that opposites attract. Harold Crick is an IRS auditor, who wakes up one morning to discover that his life is being narrated by an author who tends to kill off her main characters. On the same day as this discovery, he wanders into Ana Pascal's bakery to audit her, as she refuses to pay taxes to "the man."
Harold lives his life by the watch, and Ana rarely sets a timer. And yet the two seem to be exactly what the other is missing: Harold learns to let go, and Ana strives for greater control.
As food lovers, the character of Ana Pascal proves to be the most interesting character of this film. Not only is her existence necessary as a foil for Harold Crick, altering the course of his life, but her passion and love of baking act as foil to our common misconception of chefs—masculine, rude, crass, and violent human beings. Ana Pascal is a successful business woman with a loyal following of customers, who doesn't sacrifice her politics, warmth, generosity, or love of food to achieve the bottom line.
About the Guest Chef
Ashley Jacot de Boinod of Glory Hole Doughnuts is our real-life Ana Pascal. A successful business woman with not only a tremendous amount of strength, but also a loyal following of customers which can only be attributed to her passion and love of food. Glory Hole Doughnuts opened to the public in 2012, and has been satisfying sweet tooths ever since. On the day before Valentine's Day, why not join us for an onscreen romance in the presence of two talented, successful, female bakery owners —whilst eating a doughnut.
Food in Film at the Revue Cinema is curated by Cora James.
*Just like a busy restaurant, advance tickets/reservations to the Revue's Food in Film series are required. Limited tickets will be available at the door. Don't miss out!
**For this premium event, Revue Cinema membership perks are limited to the membership discount.