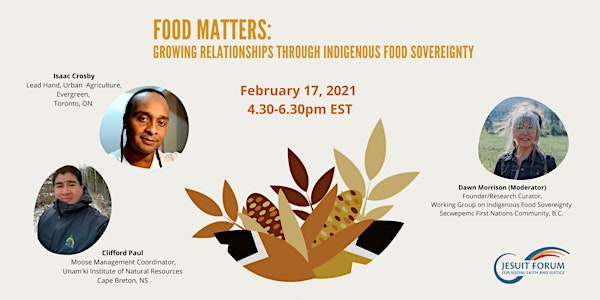 Food Matters: Growing Relationships through Indigenous Food Sovereignty
Conversation on how Indigenous food sovereignty movements seek to address questions of justice, food sovereignty, & ecological regeneration
About this event
Throughout its history, Canada has implemented policies that limited Indigenous People's ability to engage in hunting, fishing, and gathering activities, thereby eroding the food security, food sovereignty, independence, and cultures of many communities. Indeed, food has often been used as a tool of oppression and marginalization: Bison were hunted to near-extinction to force First Nations onto reservations while starvation, poor diets and malnutrition were common in residential schools.
While food has been used as an instrument of colonization, it also has the potential to be a tool for healing and for asserting Indigenous sovereignty. Join the Jesuit Forum as we listen to Dawn Morrison (Founder of Working Group on Indigenous Food Sovereignty), Isaac Crosby (Head Hand in Urban Agriculture at Evergreen Toronto) and Clifford Paul, (Moose Management Coordinator at Unama'ki Institute of Natural Resources) in a panel discussion on Indigenous food sovereignty that will focus on:
concepts like right relations, reciprocity with nature, and fostering a holistic connection with the land as a living community,
ways to increase community participation in land care and management and how this work strengthens regional food systems and food sovereignty,
strengthening and recovering traditional food systems, localizing food production, restoring local control, and challenging corporation dominance, and
treating food as a sacred gift of life to be shared fairly,
ways that Indigenous food systems and sovereignty can contribute to transforming food systems, both in Canada and globally.
Together, we will explore ways we can support and advance Indigenous sovereignty together, and in so doing move towards more just and respectful relationships.