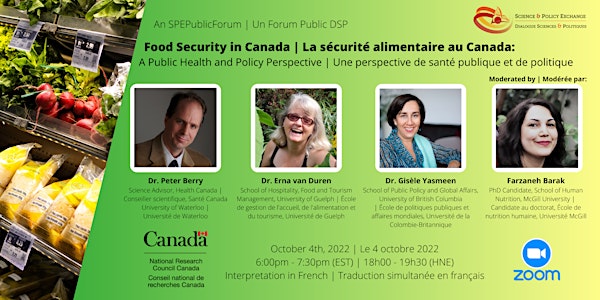 Food Security in Canada: A Public Health and Policy Perspective
Food Security in Canada: A Public Health and Policy Perspective
About this event
Le français suit l'anglais
Food Security in Canada: A Public Health and Policy Perspective
Did you know that 1 in 8 Canadian households are fighting food insecurity?
Food insecurity in Canada is a serious public health problem that has worsened due to the cumulative impacts of the COVID-19 pandemic, climate change, and socioeconomic factors. This inability to acquire or consume a culturally-appropriate diet of sufficient quantity or quality disproportionately affects vulnerable groups like the elderly, people with disabilities, visible minorities, Indigenous people, and children. Greater public awareness and ambitious policy solutions are necessary to combat this challenge.
Find out what can be done to help during the next SPE Public Forum: Food Security in Canada. Join us and three expert panelists for this interactive forum event to learn and discuss the impact of food security in Canada from research, social, policy, and other perspectives!
When: October 4th, 2022, at 6:00 pm EST
Where: Zoom
Cost: Free!
Our quest begins with the following questions:
What are the social, environmental and economic factors that cause and exacerbate food insecurity?
What are the profound impacts of food insecurity and how do these affect diverse societies in Canada?
How can adaptation and educational initiatives help communities battle food insecurity?
Which policy proposals can help mitigate Canadians' struggles with food insecurity–particularly initiatives that support low-income and marginalized communities?
Please join us and ask your own questions to our high-profile panelists! They are:
Dr. Erna van Duren, University of Guelph
Erna is a Professor in the School of Hospitality, Food and Tourism Management at the University of Guelph. Her long standing interest in food and resources stems from an early interest in food security and sustainability. Her research interests include food security, value chains, competitiveness of the food industry, sustainability and corporate social responsibility in the food and resource industries. She was part of the team that developed the University of Guelph's industry focused MBA, and has taught and advised at the graduate level. She has worked with industry and organizations on policy and economic analysis and strategy development. She has published cases, journal articles and research monographs, and has developed distance learning courses and a textbook. Her article "Van Duren, Erna et. al. Forging Vertical Strategic Alliances, in the Best of Choices, 1996, was selected as one of the best 10 articles of the decade to be published in the American Agricultural Economics Association's Policy Journal.
Dr. Gisèle Yasmeen, University of British Columbia
Gisèle Yasmeen is senior Fellow at School of Public Policy and Global Affairs at the University of British Columbia (UBC) where she was appointed in 2014. Her expertise is on food-systems in Asia, on which she has published and consulted widely since the early 1990s with both Canadian and international clients. She is also affiliated with the Margaret A. Gilliam Institute for Global Food Security at McGill University where she also sits on the advisory committee. Gisèle is an experienced senior federal government and not-for-profit executive and has served on numerous boards of directors and is currently a Director of Farm Radio International, Équiterre and the Association of Canadian Studies. She provides regular media commentary in English and French and has studied Spanish, Thai, Urdu and Mandarin. Gisèle has a Ph.D. from UBC, a master's from McGill and a BA Honors from the University of Ottawa.
Dr. Peter Berry, Health Canada and University of Waterloo
Dr. Peter Berry has been working at Health Canada on climate change issues since 2000. In this role he is currently Senior Policy Analyst and Science Advisor to the Director at the Climate Change and Innovation Bureau. He also serves as Adjunct Assistant Professor in the Faculty of Environment at the University of Waterloo. Peter is also involved in a number of collaborations to plan for climate change impacts including with the World Meteorological Organization's Study Group on Integrated Climate and Health Services to develop climate and health information utilization strategies and Health Canada's HealthADAPT initiative assisting health authorities across Canada assess climate risks to health and develop adaptation plans. Most recently Peter was co-editor and author for the national assessment Health of Canadians in a Changing Climate: Advancing our Knowledge for Action, served on the Health Advisory Table of the National Adaptation Strategy and as a Science Advisory Group member for supporting development of Canada's Climate Change Science Plan 2050.
And moderating the event:
Farzaneh Barak, McGill University
Farzaneh is a doctoral candidate in the School of Human Nutrition at McGill University, affiliated with McGill's Margaret A. Gilliam Institute for Global Food Security. Her research focuses on the intersections between food security, women's empowerment, equity, and policy, using a gender lens. Farzaneh has over a decade of national and international academic research and professional experience in public health nutrition and food security, including her doctoral project working with fishing communities in Uganda, Africa. She is currently collaborating with Food Secure Canada as a research consultant. Farzaneh aims to combine her practical and theoretical expertise to work toward equity and justice in achieving food security through providing research-based policy solutions.
*****
Titre : La sécurité alimentaire au Canada : Une perspective de santé publique et de politique
Saviez-vous qu'un ménage canadien sur huit est confronté à l'insécurité alimentaire ?
L'insécurité alimentaire au Canada est un grave problème de santé publique qui s'est aggravé en raison des effets cumulatifs de la pandémie COVID-19, des changements climatiques et autres facteurs socio-économiques. Cette incapacité à acquérir ou à consommer un régime alimentaire culturellement approprié, en quantité ou en qualité suffisantes, touche de façon disproportionnée les groupes vulnérables. Cela inclut les personnes âgées, les personnes handicapées, les minorités visibles, les autochtones et les enfants. Une plus grande sensibilisation du public et des solutions politiques ambitieuses sont nécessaires pour lutter contre ce problème.
Découvrez ce qui peut être fait pour aider lors du prochain forum public de SPE : La sécurité alimentaire au Canada. Joignez-vous à nous ainsi que trois panélistes experts lors de ce forum interactif pour discuter et en apprendre sur l'impact de la sécurité alimentaire au Canada, du point de vue de la recherche, de la société, des politiques et d'autres perspectives !
Quand: Le 4 octobre 2022, à 18 h (HNE)
Où: Zoom
Coûts: Gratuit !
Notre quête commence par les questions suivantes :
Quels sont les facteurs sociaux, environnementaux et économiques qui causent et exacerbent l'insécurité alimentaire ?
Quels sont les impacts profonds de l'insécurité alimentaire et comment ceux-ci affectent-ils les diverses sociétés du Canada ?
Comment les initiatives d'adaptation et d'éducation peuvent-elles aider les communautés à lutter contre l'insécurité alimentaire ?
Quelles propositions de politiques peuvent contribuer à atténuer les difficultés des Canadiens face à l'insécurité alimentaire - en particulier les initiatives qui soutiennent les communautés à faible revenu et marginalisées ?
Joignez-vous à nous et posez vos propres questions à nos panélistes de haut niveau ! Il s'agit de :
Dr. Erna van Duren, Université de Guelph.
Erna est professeur à l'école de gestion de l'hospitalité, de l'alimentation et du tourisme de l'Université de Guelph. Son expérience dans le domaine de la gestion des ressources alimentaires découle d'un intérêt précoce pour la sécurité alimentaire et la durabilité. Ses recherches portent sur la sécurité alimentaire, les chaînes de valeur, la compétitivité de l'industrie alimentaire, la durabilité et la responsabilité sociale des entreprises dans les industries alimentaires et des ressources. Elle a fait partie de l'équipe qui a élaboré le MBA axé sur l'industrie de l'Université de Guelph, et a enseigné et conseillé au niveau des études supérieures. Elle a travaillé avec l'industrie et des organisations sur des analyses politiques et économiques et sur le développement de stratégies. Elle a publié des cas, des articles de journaux et des monographies de recherche, et a élaboré des cours d'apprentissage à distance et un manuel. Son article "Van Duren, Erna et. al. Forging Vertical Strategic Alliances, dans le Best of Choices, 1996, a été sélectionné comme l'un des 10 meilleurs articles de la décennie à être publié dans le Policy Journal de l'American Agricultural Economics Association.
Dr. Gisèle Yasmeen, Université de la Colombie-Britannique
Gisèle Yasmeen est chercheuse principale à l'École de politique publique et des affaires mondiales de l'Université de la Colombie-Britannique (UBC) depuis 2014. Son expertise porte sur les systèmes alimentaires en Asie, sujet sur lequel elle a publié et consulté de nombreux ouvrages depuis le début des années 1990 pour des clients canadiens et internationaux. Elle est également affiliée à l'Institut Margaret A. Gilliam pour la sécurité alimentaire mondiale de l'Université McGill, où elle siège également au comité consultatif. Gisèle est une cadre supérieure expérimentée du gouvernement fédéral et des organismes à but non lucratif. Elle a siégé à de nombreux conseils d'administration et est actuellement directrice de Radios Rurales Internationales, d'Équiterre et de l'Association d'études canadiennes. Elle commente régulièrement les médias en anglais et en français et a étudié l'espagnol, le thaï, l'urdu et le mandarin. Gisèle est titulaire d'un doctorat de l'UBC, d'une maîtrise de McGill et d'un baccalauréat spécialisé de l'Université d'Ottawa.
Dr Peter Berry, Santé Canada et Université de Waterloo
Le Dr Peter Berry travaille à Santé Canada sur les questions de changement climatique depuis 2000. À ce titre, il est actuellement analyste principal des politiques et conseiller scientifique auprès du directeur du Bureau du changement climatique et de l'innovation. Il est également professeur adjoint à la faculté d'environnement de l'Université de Waterloo. Peter participe également à un certain nombre de collaborations visant à planifier les impacts du changement climatique, notamment avec le groupe d'étude de l'Organisation météorologique mondiale sur les services intégrés en matière de climat et de santé, afin d'élaborer des stratégies d'utilisation des informations sur le climat et la santé, ainsi qu'avec l'initiative HealthADAPT de Santé Canada, qui aide les autorités sanitaires du pays à évaluer les risques climatiques pour la santé et à élaborer des plans d'adaptation. Plus récemment, Peter a été co-rédacteur et auteur de l'évaluation nationale Health of Canadians in a Changing Climate : Advancing our Knowledge for Action, a siégé à la table consultative sur la santé de la Stratégie nationale d'adaptation et a fait partie du groupe consultatif scientifique chargé de soutenir l'élaboration du Plan scientifique 2050 sur le changement climatique au Canada.
Et la modération de l'événement :
Farzaneh Barak, Université McGill
Farzaneh est une candidate au doctorat à l'École de nutrition humaine de l'Université McGill, affiliée à l'Institut Margaret A. Gilliam pour la sécurité alimentaire mondiale de McGill. Ses recherches portent sur l'intersection entre la sécurité alimentaire et l'autonomisation des femmes, l'équité et la politique, dans l'optique du genre. Farzaneh a plus d'une décennie de recherche universitaire nationale et internationale et d'expérience professionnelle dans le domaine de la santé publique, de la nutrition et de la sécurité alimentaire. Cela comprend son projet de doctorat auprès de communautés de pêcheurs en Ouganda, en Afrique. Elle collabore actuellement avec Sécurité alimentaire Canada en tant que consultante en recherche. Farzaneh vise à combiner son expertise pratique et théorique pour travailler à l'équité et à la justice dans la réalisation de la sécurité alimentaire en fournissant des solutions politiques fondées sur la recherche.