Description
Did you know that the average Canadian consumer throws out an estimated 170 kilograms of food a year? As a matter of fact, Canada is among the worst globally in wasting food. This issue is not only a matter of what is left at the back of the fridge, but also encompasses the entire food supply chain from the farm all the way through processing, distribution, foodservice and retail.
How did we get to this and how did we deal with food waste in the past? How can we individually make a difference? How can the food-supply chain reduce its footprint? The presenter is Magdaline Dontsos, a former faculty member in the Food and Nutrition Management program at Centennial College, as well as a member of the Ontario Society of Nutrition Management and the Canadian Society of Nutrition Management.
Food samples made from recovered food waste will be served.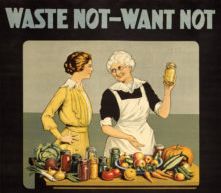 Images : "European Commission/EU Platform on Food Losses and Food Waste".and Detail from a wartime propaganda poster produced by the Canada Food Board.

Organizer of Food Waste - Past and Present
The Culinary Historians of Canada (CHC) is an organization that researches, interprets, preserves and celebrates Canada's culinary heritage, which has been shaped by the food traditions of the First Nations peoples and generations of immigrants from all parts of the world. Through programmes, events and publications, CHC educates its members and the public about the foods and beverages of Canada's past.