Foods That Fight Cancer Gala les aliments contre le cancer
Description
Pour la description en français, veuillez voir ci-dessous.
On March 14, 2019, Colorectal Cancer Canada ("CCC") is pleased to host its 9th Annual Gala in celebration of CCC's lifesaving programs, survivors and their loved ones, and our special community of support.
The gala will showcase our ongoing colorectal cancer prevention program, Foods That Fight Cancer (FTFC). As a sponsor, you will have valuable opportunities for exposure within our networks and recognition before and after the event. Colorectal Cancer Canada is pleased to customize a package to meet your specific needs and goals to make the most out of your important participation.
DOWNLOAD FULL SPONSORSHIP PACKAGE AND REPLY FORM HERE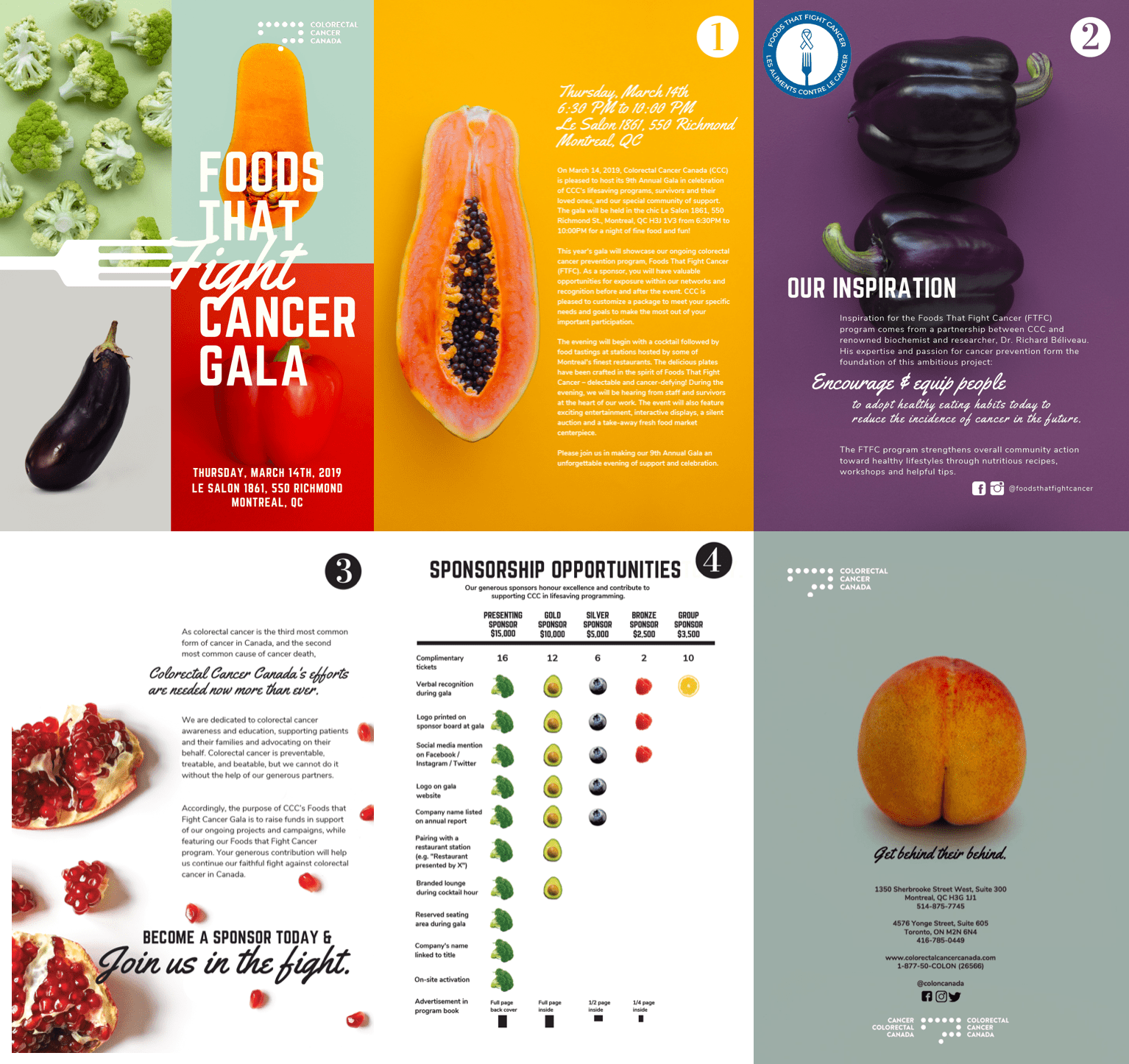 The evening will begin with a cocktail followed by food tastings at stations hosted by some of Montreal's finest restaurants. The delicious plates have been crafted in the spirit of Foods That Fight Cancer – delectable and cancer-defying! During the evening, we will hear from staff and survivors at the heart of our work. The event will also feature exciting entertainment, interactive displays, a silent auction and a take-away fresh food market centerpiece.
Please join us in making our 9th Annual Gala an unforgettable evening of support and celebration.
Our Inspiration
Inspiration for the Foods That Fight Cancer program comes from a partnership between CCC and renowned biochemist and researcher, Dr. Richard Béliveau. His expertise and passion for cancer prevention form the foundation of this ambitious project: to encourage and equip people to adopt healthy eating habits today to reduce the incidence of cancer in the future. The FTFC program strengthens overall community action toward healthy lifestyles through accessible and nutritious recipes, workshops and seminars.

As colorectal cancer is the 3rd most common form of cancer in Canada, and the 2nd most common cause of cancer death, CCC's efforts are needed now more than ever. We are dedicated to colorectal cancer awareness and education, supporting patients and their families and advocating on their behalf. Colorectal cancer is preventable, treatable, and beatable, but we cannot do it without the help of our generous partners.
Accordingly, the purpose of CCC's Foods That Fight Cancer Gala is to raise funds in support of our ongoing projects and campaigns, while featuring our Foods that Fight Cancer program. Your generous contribution will help us continue our faithful fight against colorectal cancer in Canada.
Become a sponsor today and join us in the fight!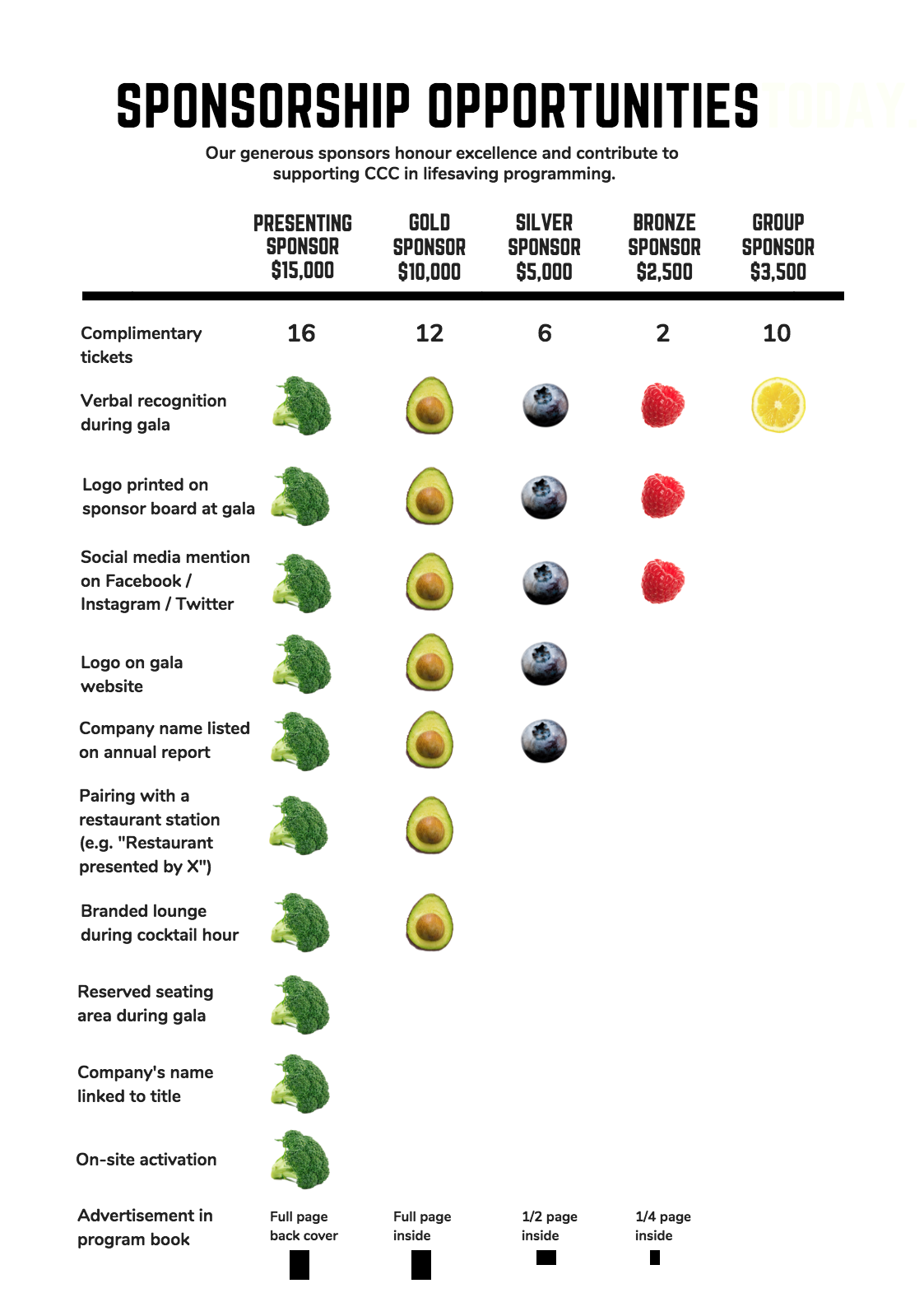 ---
L'organisme Cancer colorectal Canada ("CCC") est ravi de présenter, le 14 mars prochain, son 9e gala annuel, qui vise à soutenir ses programmes essentiels et à célébrer les survivants et leurs proches, de même que toute une communauté de soutien.
Le gala mettra en lumière notre programme continu de prévention du cancer colorectal, Les aliments contre le cancer. En tant que commanditaire, vous profiterez d'occasions de visibilité uniques au sein de nos réseaux et d'une notoriété importante avant et après l'événement. Cancer colorectal Canada est heureux de vous offrir une trousse sur mesure, qui saura répondre à vos besoins et objectifs et vous permettra de tirer pleinement profit de votre participation.
CLIQUEZ ICI POUR TÉLÉCHARGER LA TROUSSE DE COMMANDITE
CLIQUEZ ICI POUR TÉLÉCHARGER LE FORMULAIRE DE RÉPONSE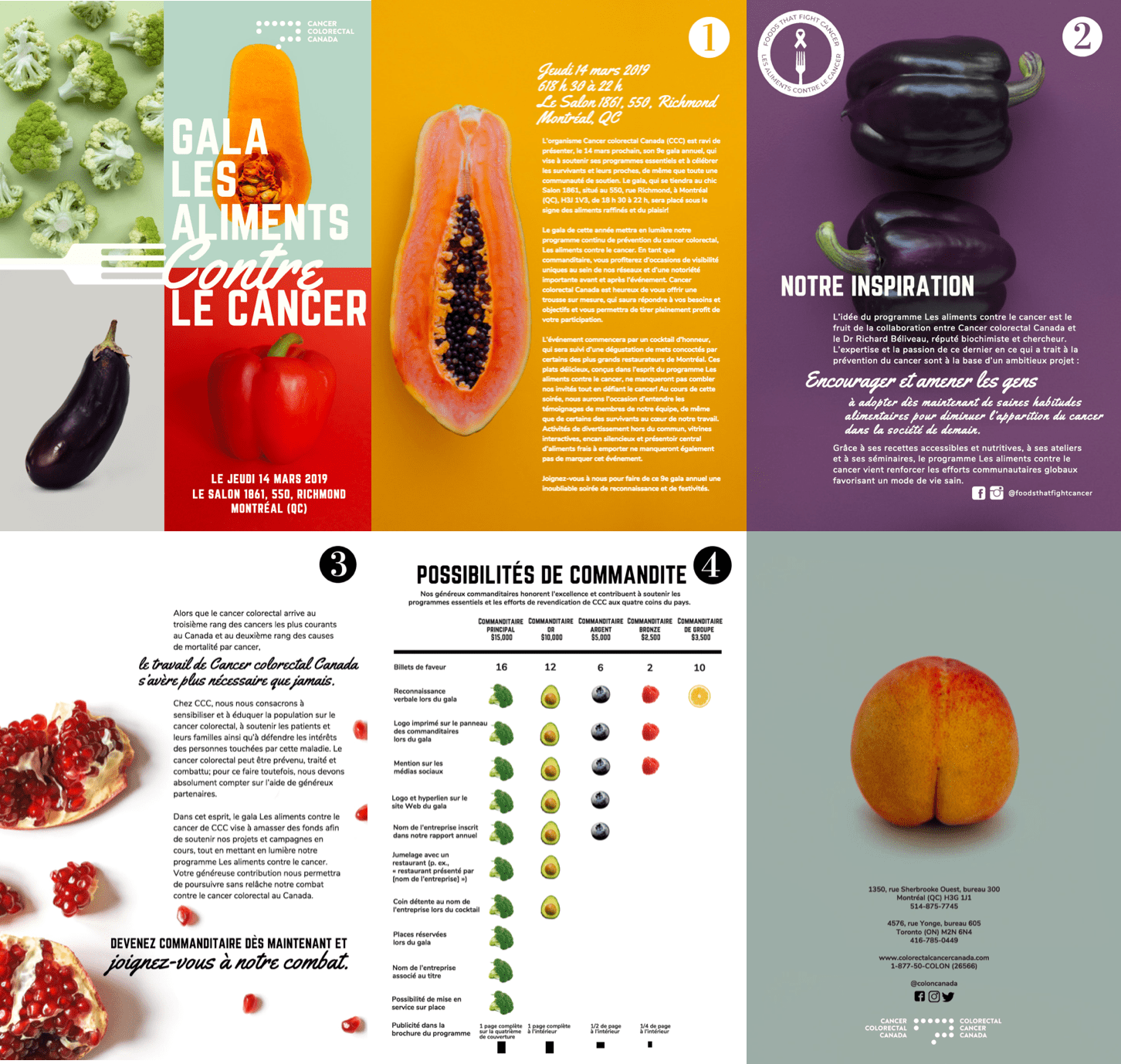 L'événement commencera par un cocktail d'honneur, qui sera suivi d'une dégustation de mets concoctés par certains des plus grands restaurateurs de Montréal. Ces plats délicieux, conçus dans l'esprit du programme Les aliments contre le cancer, ne manqueront pas combler nos invités tout en défiant le cancer! Au cours de cette soirée, nous aurons l'occasion d'entendre les témoignages de membres de notre équipe, de même que de certains des survivants au cœur de notre travail. Activités de divertissement hors du commun, vitrines interactives, encan silencieux et présentoir central d'aliments frais à emporter ne manqueront également pas de marquer cet événement.
Joignez-vous à nous pour faire de ce 9e gala annuel une inoubliable soirée de reconnaissance et de festivités.
Notre inspiration
L'idée du programme Les aliments contre le cancer est le fruit de la collaboration entre Cancer colorectal Canada et le Dr Richard Béliveau, réputé biochimiste et chercheur. L'expertise et la passion de ce dernier en ce qui a trait à la prévention du cancer sont à la base d'un ambitieux projet : encourager et amener les gens à adopter dès maintenant de saines habitudes alimentaires pour diminuer l'apparition du cancer dans la société de demain. Grâce à ses recettes accessibles et nutritives, à ses ateliers et à ses séminaires, le programme Les aliments contre le cancer vient renforcer les efforts communautaires globaux favorisant un mode de vie sain.

Alors que le cancer colorectal arrive au troisième rang des cancers les plus courants au Canada et au deuxième rang des causes de mortalité par cancer, le travail de Cancer colorectal Canada s'avère plus nécessaire que jamais. Chez CCC, nous nous consacrons à sensibiliser et à éduquer la population sur le cancer colorectal, à soutenir les patients et leurs familles ainsi qu'à défendre les intérêts des personnes touchées par cette maladie. Le cancer colorectal peut être prévenu, traité et combattu; pour ce faire toutefois, nous devons absolument compter sur l'aide de généreux partenaires.
Dans cet esprit, le gala Les aliments contre le cancer de CCC vise à amasser des fonds afin de soutenir nos projets et campagnes en cours, tout en mettant en lumière notre programme Les aliments contre le cancer. Votre généreuse contribution nous permettra de poursuivre sans relâche notre combat contre le cancer colorectal au Canada.
Devenez commanditaire dès maintenant et joignez-vous à notre combat.