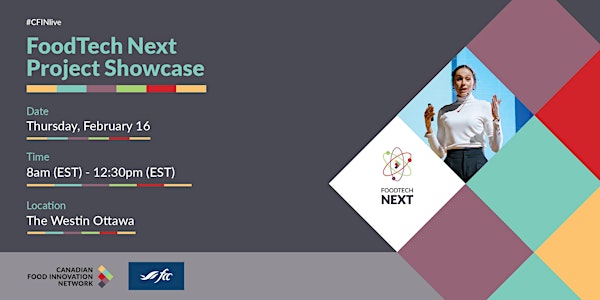 FoodTech Next Project Showcase
Be the first to meet Canada's emerging, high potential food tech companies as we announce our inaugural cohort of FoodTech Next Winners!
When and where
Location
The Westin Ottawa 11 Colonel By Drive Ottawa, ON K1N 9H4 Canada
About this event
4 hours 30 minutes

Mobile eTicket
You're invited to meet the winners of our inaugural FoodTech Next Program, in-person, in Ottawa!
Date: Thursday, February 16
Registration and Networking Breakfast: 8am – 9am (EST)
Event: 9am – 12:30pm (EST)
Location: The Westin Ottawa *
Sponsor: FCC
The event will be in English and real-time translated into French using the Wordly App.
Attendees will have a chance to hear project pitches from the winning FoodTech Next companies, identify collaboration opportunities, and network with food industry leaders, funders, government officials, and researchers who are championing innovation in the food industry.
Why Attend?
The FoodTech Next winners will be showcasing innovations that impact all aspects of the food value chain, including:
Improving food purchasing experiences
Increasing automation in commercial kitchens
Enhancing food safety
Extending the shelf-life of fresh proteins
Developing sustainable packaging
And more!
Who Should Attend?
Food and beverage company leaders
Investors (angels, venture capitalists, private equity)
Tech companies curious about opportunities in the food industry
Professionals working in mergers and acquistion, deal flow readiness, export
Government policy and program developers
Media working in business, food and economic development
CFIN Members
This unique event strives to create supportive partnerships that will help Canada's brightest food technology innovators to succeed! At this event you'll be the first to meet and identify collaboration opportunities with the winners of our new FoodTech Next Program and have an opportunity to network with leaders across the Canadian food sector. Join us to become an integral part of Canada's economic success!
Keynote
We are pleased to welcome Michael Grantmyre of Osler, as our Keynote Speaker.
Michael's practice focuses on mergers and acquisitions, corporate finance, and securities law in the technology sector. As a partner in Osler's Emerging and High Growth Companies group, Michael advises both technology companies and a wide range of investors in connection with a variety of transactions including acquisitions and divestitures, venture capital, growth equity and private equity financings, recapitalizations, joint ventures and strategic alliances, all in addition to supporting the day-to-day corporate needs of the companies that he acts for. Michael plays a central role with Osler's relationship with the League of Innovators, who are a national Canadian charity that offer accessible programs, education and events for young entrepreneurs, from discovery through to acceleration.
See you in Ottawa on February 16th!
* Hotel Booking Information
CFIN has secured a preferential rate for event attendees. Use code 'K6Y' when booking to secure 10-15% off.
About FoodTech Next
FoodTech Next is a unique funding opportunity for early-stage Canadian technology firms who seek to be part of or sell to the wider food industry. The program allows companies to demonstrate and pilot their innovation in operational environments to prove their solutions and validate the return on investment for the food sector. The overarching goal of FoodTech Next is to accelerate the commercialization of Canadian innovation by generating first demonstration opportunities.
__________________________________________________________________________________________________
Vous êtes invités à rencontrer les gagnants de notre programme inaugural de bourses d'études AlimenTech Next inaugural, en personne, à Ottawa !
Date : Jeudi 16 février
Inscription et petit-déjeuner de mise en réseau : 8h - 9h (EST)
Evénement : 9h00 - 12h30 (EST)
Lieu : Le Westin Ottawa *
Sponsor : FCC
L'événement se déroulera en anglais et sera traduit en temps réel en français à l'aide de la application Wordly.
Les participants auront l'occasion d'entendre les présentations de projets des entreprises gagnantes AlimenTech Next , d'identifier les possibilités de collaboration et de nouer des contacts avec des leaders de l'industrie alimentaire, des bailleurs de fonds, des représentants du gouvernement et des chercheurs qui défendent l'innovation dans l'industrie alimentaire.
Pourquoi participer ?
Les lauréats du site AlimenTech Next présenteront des innovations qui ont un impact sur tous les aspects de la chaîne de valeur alimentaire, notamment :
Améliorer les expériences d'achat de produits alimentaires
Augmentation de l'automatisation dans les cuisines commerciales
Améliorer la sécurité alimentaire
Prolonger la durée de conservation des protéines fraîches
Développer des emballages durables
Et plus encore !
Qui devrait y assister ?
Dirigeants d'entreprises du secteur de l'alimentation et des boissons
Investisseurs (anges, capital-risqueurs, capital-investissement)
Les entreprises technologiques s'intéressent aux possibilités offertes par l'industrie alimentaire
Professionnels travaillant dans le domaine des fusions et acquisitions, de la préparation au flux d'opérations, de l'exportation.
Développeurs de politiques et de programmes gouvernementaux
Médias travaillant dans le domaine des affaires, de l'alimentation et du développement économique
RCIA Membres
Cet événement unique vise à créer des partenariats de soutien qui aideront les plus brillants innovateurs en technologie alimentaire du Canada à réussir ! Lors de cet événement, vous serez les premiers à rencontrer et à identifier les possibilités de collaboration avec les gagnants de notre nouveau programme AlimenTech Next et vous aurez l'occasion d'établir un réseau avec les leaders du secteur alimentaire canadien. Joignez-vous à nous pour faire partie intégrante de la réussite économique du Canada !
Conférencier principal
Nous avons le plaisir d'accueillir Michael Grantmyre d'Osler, en tant que conférencier principal.
La pratique de Michael est axée sur les fusions et acquisitions, le financement des entreprises et le droit des valeurs mobilières dans le secteur de la technologie. En tant qu'associé du groupe des sociétés émergentes et à forte croissance d'Osler, Michael conseille à la fois des sociétés technologiques et un large éventail d'investisseurs dans le cadre de diverses transactions, notamment des acquisitions et des désinvestissements, des financements par capital-risque, par capital de croissance et par capital-investissement, des recapitalisations, des coentreprises et des alliances stratégiques, tout en répondant aux besoins quotidiens des sociétés qu'il représente. Michael joue un rôle central dans la relation entre Osler et la Ligue des innovateurs, une organisation caritative canadienne qui propose des programmes, des formations et des événements accessibles aux jeunes entrepreneurs, de la découverte à l'accélération.
Rendez-vous à Ottawa le 16 février !
* Informations sur la réservation d'un hôtel
RCIA a obtenu un tarif préférentiel pour les participants à l'événement. Utilisez le code "K6Y" lors de la réservation pour obtenir une réduction de 10 à 15 %.
À propos de AlimenTech Next
AlimenTech Next est une opportunité de financement unique pour les entreprises technologiques canadiennes en phase de démarrage qui cherchent à faire partie de l'industrie alimentaire au sens large ou à la vendre. Le programme permet aux entreprises de démontrer et de piloter leur innovation dans des environnements opérationnels afin de prouver leurs solutions et de valider le retour sur investissement pour le secteur alimentaire. L'objectif primordial de AlimenTech Next est d'accélérer la commercialisation de l'innovation canadienne en générant de premières opportunités de démonstration.