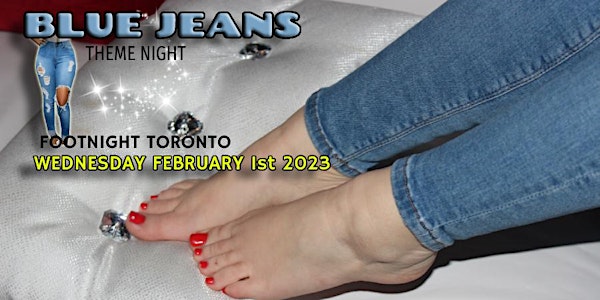 Footnight Toronto
Blue Jeans Theme Night
When and where
Location
1625 Sismet Rd 1625 Sismet Road Mississauga, ON L4W 1V6 Canada
About this event
Huge and private play spaces!.... Great vibes, fast, easy secure check-in! Safe and easy parking!
"10 out of 10's" beauties coming! You'd be crazy to miss this one!
Stunning foot girls in their Blue Jeans pants... beautiful brand new models and your favs for your foot indulgence!
Non-Stop, wall-to-wall foot activities with so many hot, fun FootNight girls who have been hand-picked just for you!
TOEtally private 1-on-1 foot play areas as well as sexy semi and group areas for the more adventurous foot lovers.
"Smelly Feet Treat" - Like smelly feet... Come early and be first to experience beautiful fragrant feet. The girls' feet to be very well prepared for your sniffing delight!!
"Clean Feet Treat" - Like fresh 'outta the shower' feet... experience beautiful sparkling clean feet. Freshly clean...freshly pedicured. Just the way you like them.
"Whipped Cream Feet"! - Ever eaten food off a girls feet? Or licked whip cream off a girls high arched soles Mmmmm!
"Tickle Tickle" Lots of tantalizing toes and soles to tickle!
"Mass Foot Attack!" - Worship the feet of multiple girls all at the same time! Your face covered with 2, 3, 4, 5...or even 10 girls feet! The girls will be there and available!
"Just you and Her!" - Want things a little more private and discreet? Lay down and worship the feet of the girl of your choice in a 1-on-1 intense foot worship session in total privacy in one of the many closed-off private play areas!!
"The Footnight First Timers" - Worship the feet of gorgeous women that have never experience a single sensual foot touch! This is always a foot fetishist dream come true.
"The Footnight Favorites" - Indulge in the feet of your favorite Footnight Girls that know exactly how, when, and what you like to fulfill your foot fetish fantasy
The hottest ladies in Canada are all coming together for you to worship and enjoy their beautiful and sexy feet. This is the night where all foot fetish fantasies will come true!