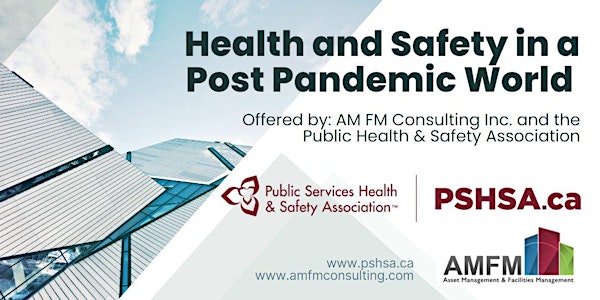 For Building Professionals - Health and Safety in a Post Pandemic World
Post-pandemic Health and Safety best practices.
About this event
Thursday, December 8 - 6:00pm to 7:30pm
Networking 6:00pm - 6:30pm
Presentation 6:30pm - 7:30pm
In this free webinar and networking opportunity, we reflect on how building management protocols have transformed significantly over the last 2-3 years with key speaker Derek Morgan, Health and Safety specialist with the Public Services Health and Safety Association (PSHSA) to ensure the health and safety of our workplace.
Our understanding of managing risk perception, remote work, and psychological health and wellness, today are continuously evolving requiring the implementation of efficient and effective best practices to ensure business continuity and resiliency.
This session will cover:
Post-pandemic increased awareness of Health and Safety in the Workplace
What is the current state of Health and Safety
Focus on health and wellbeing best practices
Business continuity amidst crisis and globalization
Maintenance expectations today and in the future
Implications of hybrid and remote work
Key Speakers:
Derek Morgan
Derek Morgan is a Health and Safety Consultant with the Public Services Health and Safety Association (PSHSA), Health and Community Care Team. Derek brings over 15 years of experience in the health and safety field. In his current role with PSHSA Derek provides health and safety consultation, training, support, guidance and advice to client organizations. Derek is a Canadian Registered Safety Processional (CRSP) and Certified Health and Safety Consultant (CHSC) who holds an undergraduate degree from Wilfrid Laurier University in Kinesiology & Physical Education, a Master's Degree in Human Kinetics from the University of Windsor as well as a certificate in Occupational Health & Safety from Conestoga College.
Founder of AM FM Consulting Group Inc., Marcia is a successful business entrepreneur, providing innovative management consulting, professional development and recruiting services to the private, public and non-profit sectors. With 25 years of experience in the industry, Marcia is a seasoned educator, speaker and a dynamic and accomplished expert in all aspects of asset, facility, property and construction management.
Marcia has been credited with pioneering the first Facilities Management Certificate Program at the University of Toronto and awarded Facility Manager of Excellence through the Toronto IFMA Chapter. This peer nominated award recognizes Marcia's important contribution and positive effect on the FM profession.
Please join us for an informative evening about continuously keeping our buildings safe!
Contact us at marcia.oconnor@amfmconsulting.com for any additional questions.
Reserve your ticket now