For The Love of Rutherford. Featuring Amy Hef, The Carolines, Lorna Lampman
About this Event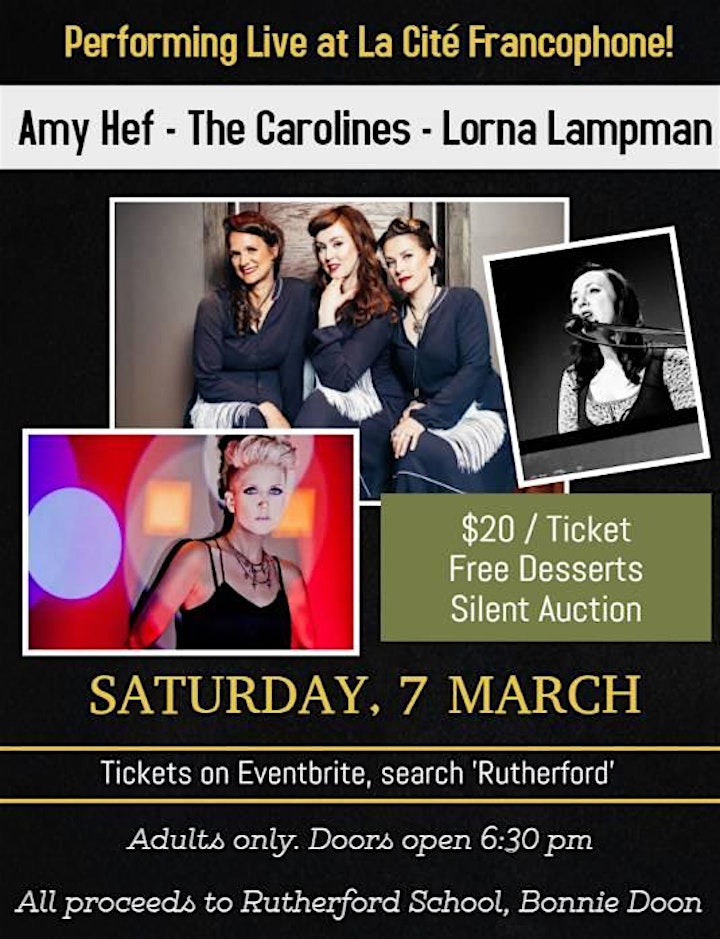 For the Love of Rutherford, presented by Bryan & Alison's No Frills, is a spectacular annual concert & silent/live auction that has brought in the best musical talent that Edmonton has to offer!
On Saturday, March 7, 2020, we invite parents, alumni, friends and community members to attend 'For The love of Rutherford'. Hosted by Rutherford School Parent Council, the event is being held at La Cité Francophone, located directly across the street from the school, at 8627 Rue Marie-Anne Gaboury (91 Street). All proceeds go towards enriching student programming at Rutherford School.
Don't miss out! Limited tickets available!
Guests will enjoy the entertainment of acclaimed local musicians and have the opportunity to participate in a silent and live auction.
This year's line-up features the talents of:
Amy Hef - 2017 Calgary Female Artist of The Year, this talented singer-songwriter's music is fun Party/Pop/Rock!
The Carolines - Popular local classic-country trio who sing toe-tapping songs with spine-tingling harmonies.
Lorna Lampman - A wear-your-heart-on-your-sleeve jazz songstress.
The event will be MC'd by Joël Rivero.
Doors open at 6:30pm. Concert begins at 7:30pm. Tickets are $20 per person and the price includes desserts catered by Café Bicyclette. A cash bar is provided.
Rutherford students have greatly benefited from this event in the past, with the purchase of musical instruments, new technology, gym equipment and library materials, and has sponsored a number of artist-in residence programs.
Proceeds from this event will go towards enrichment of student programming at Rutherford School, including an artist-in-residence puppeteering program with Kaybridge Productions in April that will benefit all students.
Please contact the school office if you would like to make a donation to the silent auction, or if you require any further information at 780.466.2891.
This event is open to everyone, so mark Saturday, March 7 on your calendars and we hope to see you at For the Love of Rutherford!
Thank you in advance for your support.
A huge THANK YOU to our event sponsors:
Bryan & Alison's No Frills
Paul Blais Reality Group
These Girls Can Paint
Teeth by Heath - Bonnie Doon Dental Clinic
Minsos Stewart Masson - Barristers, Solicitors and Notaries
Drugbank
Effect Home Builders
Medicine Shoppe Pharmacy - Mill Creek/Bonnie Doon
Polar Park Brewing
Medicine Shoppe Pharmacy - Mill Creek/Bonnie Doon
La Cité Francophone