About this Event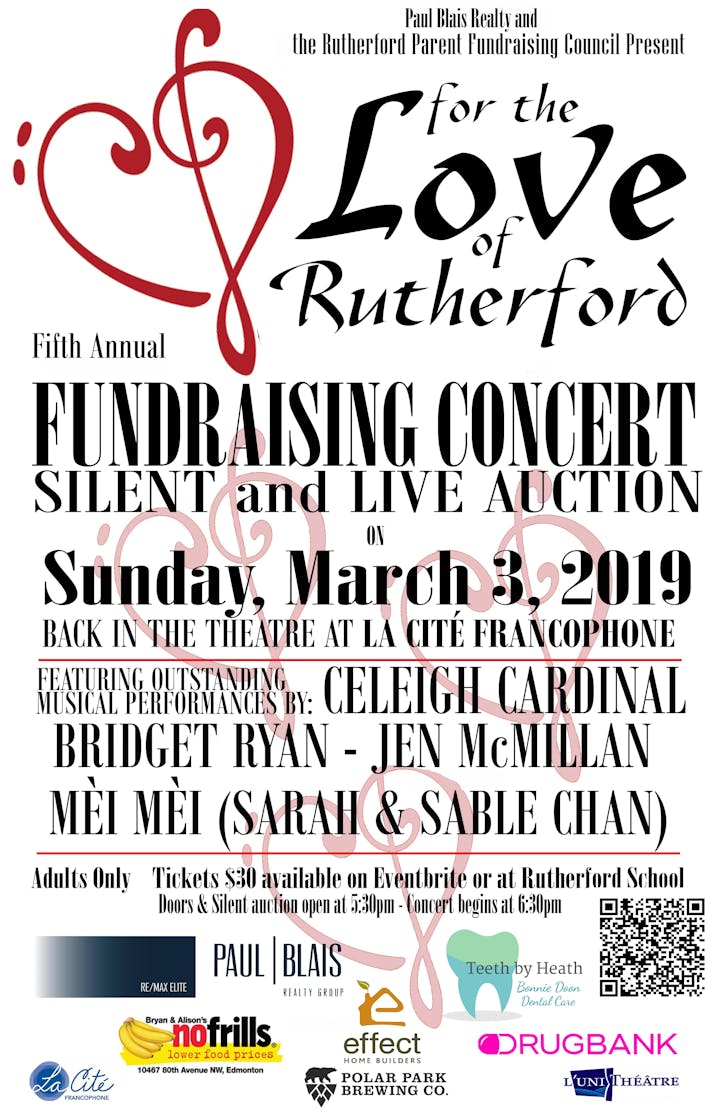 For the Love of Rutherford is a spectacular annual concert & silent auction that has brought in the best musical talent that Edmonton has to offer! With all proceeds going to enriching student programming at Rutherford School, this beautiful event has managed to raise over $35,000 in the past five years.
On Sunday, March 3rd, 2019, we invite you to attend 'For the Love of Rutherford', a night of entertainment for parents and members of the community. Hosted by Rutherford School and Parent Council, the event is being held at La Cité Francophone, located directly across the street from the school, at 8627 rue Marie-Anne-Gaboury (91 Street).
Guests will enjoy the entertainment of local musicians and have the opportunity to participate in a silent and live auction.
This year's line-up features the talents of:
Celeigh Cardinal (Edmonton Female Artist of the Year and Indigenous Artist of the Year).
Bridget Ryan and Jennifer McMillan ( part musical theatre, part stand-up comedy, and 100% entertaining!).
Mèi Mèi (the ukulele sister cover band of Sable and Sarah Chan, First Lady of Edmonton).
The event will be MC'd by Bridget Ryan.
Doors open at 5:30pm. Concert begins at 6:30pm and runs until 9:00pm. Tickets are $30 per person and the price includes tapas catered by Cafe Bicyclette.
Rutherford students have greatly benefited from this event in the past, with the purchase of musical instruments, new technology, gym equipment and library materials, and an artist-in residency with local artist, Jason Blower. In the past five years, "For the Love of Rutherford" silent and live auctions have raised over $35,000 to enrich student programming at Rutherford School.
This year's proceeds will go towards supporting an artist-in-residency with RedPath, an indigenous duo who use hoop dance workshops to empower youth to find and pursue their passions in life, inspiring them to take the necessary steps towards reaching their goals.
Please contact the school office if you would like to make a donation to the silent auction, or if you require any further information at 780.466.2891.
This event is open to everyone, so mark Sunday, March 3rd on your calendars and we hope to see you at For the Love of Rutherford!
Thank you in advance for your support.