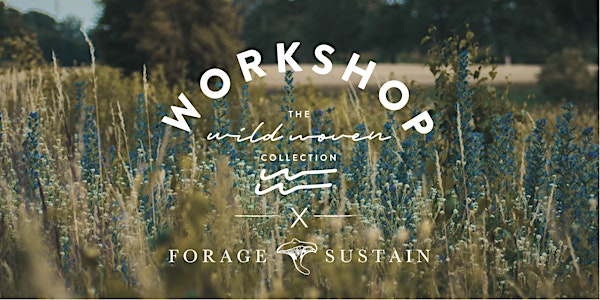 Forage and Sustain x Wild Woven Workshop - Natural Dyeing and Foraging
Join us for a day of slow living, natural dyeing and meaningful connection at a beautiful farm just north of Toronto!
When and where
Location
Willowgrove Farm 1737 McCowan Road Stouffville, ON L4A 7X5 Canada
About this event
What:
Forage & Sustain has collaborated with the incredible ladies behind Wild Woven Collection to bring you a full-day workshop centred around natural dyeing, foraging and connection. Our day will be spent outside of chaotic city life, up north at a quiet, expansive farm property in Whitchurch-Stouffville. With 100-acres of forest, a bubbling creek, an apple orchard, and lush botanicals, we'll spend our day learning from Katelyn and Christine of Wild Woven about the process of using nature to gently and beautifully dye linens.
We will learn about sustainability and the benefits of earthing and forest bathing from Arti of Forage & Sustain, where she will lead us in a mindful forest walk, where we will ground, meditate and leave our stresses behind under a thick canopy of trees. Katelyn and Christine will help us identify plants, help us learn about colours and show us how to dye our own linen and silk textiles.
With a rustic fire pit, sprawling healthy lunch spread, tea, and a chance to connect with like-minded people, our workshop will be a retreat – an amazing time of collaboration, mindfulness and creative expression.
Who is this for?
This workshop is for anyone who is looking to step outside of the ordinary, have a day of slow living, meaningful connection, and time spent outdoors. Our workshop is designed to help us reconnect with the earth, and learn why we need to step away from our screens more and embrace the natural world we live in. So many of us are seeking community and find it hard to meet new people living in the city, so we're aiming to bring people together in a way that lets us learn a new craft while gorging on delicious eats under a dense forest.
We welcome anyone and everyone, no previous skills required in natural dyeing.
Includes:
Arrival tea + homemade GF edible flower cookies
Forest bathing, earthing, nature walk, and talk on sustainable living, taught by Arti
Natural dyeing demonstration + 2 hands-on tutorials, dyeing a linen dishcloth and silk scarf, taught by Katelyn and Christine.
Tutorial 1: Bundle Dyeing using Foraged Botanicals (flowers, herbs, leaves, etc.)
Tutorial 2: Dip Dyeing using Pantry Scraps (onion skins, avocado pits, etc.)
A healthy lunch spread by The Living Platter – GF + Vegan options available
Goodie Bags valued at $194
Sponsors include:
Does Not Include:
Transportation to venue is not included. If you are in need of assistance in reaching the farm, please contact us as we'd love to help you find ways on getting there!
*Due to limited spots, we will not be offering any refunds on cancellations
About Forage & Sustain:
Arti, the founder and editor of Forage & Sustain started this platform as a way to help people find solutions to conscious living. With highly curated content, Forage & Sustain shows us how we can live sustainably, without compromising on style or convenience. With an aim to bring people together in meaningful ways that celebrate our earth and foster real connection, Arti intended this workshop to be a special treat for yourself.
About Wild Woven Collection:
A collaboration between a graphic designer (Katelyn) and food blogger (Christine), Wild Woven Collection is a beautiful brand that believes in zero-waste, living off of mother nature's bounty, and using food as creative expression. As a way to bring people back to the traditional way of dyeing, Katelyn and Chrisitine want to help us reconnect with our innate sense of nature and botanicals and help us see the abundance around us.
Please be advised that there will be photography and videography taken at this event that may be used in social media, press, marketing materials, and other publications at any time. By attending this event, you consent to this, and to the use of any images you may be a part of unless you inform us in advance.
FAQs:
Do I need to bring anything with me?
All of the materials you need for the workshop will be provided for you
You may want to bring a hat and bottle of water if you wish
How can I contact the organizer with any questions?
For any questions or comments, please connect with us at hello@forageandsustain.com OR hello@shopwildwoven.com