Description
An art exhibition exploring the curious creatures from South Asian mythology and their stories. Pairing contemporary design with ancient folklore, Forbidden Forest celebrates the art of storytelling through a series of illustrations.
Free Admission
General Exhibition Hours:
January 18 - 27, 2019
8:00 AM – 8:00 PM EST
Opening Reception:
January 17, 2019
6:00 PM - 9:00 PM EST
About the Exhibition
Of the ancient world's legendary creatures, we may know Greek mythology's divine winged stallion Pegasus, or perhaps a dull-witted troll from Norse folklore. However, this exhibition explores the less familiar ancient creatures of Hindu mythology. Expect to encounter the dueling monkey brothers Vali and Sugriva, the infinitely long cosmic serpent Ananta, or valiant Garuda, king of birds and sworn enemy of snakes. And Mahishasura, a near-immortal demon buffalo who goes to war with the gods and eventually loses to a tiger-mounted goddess in an epic showdown that is still recited today.
Over thousands of years oral storytelling was the primary tool for sharing the cultural identity and values embodied in these myths.To share these stories with you, the design duo Humble Raja has brought these fantastic beasts to life by illustrating them as a set of playing cards organized into suits by the exotic environments from which they originate (the sky, the sea, the jungle and grasslands). The mythical creatures each take their form as the face cards allowing the theme of their environment, colour and common patterns to stitch each suit together.
The exhibition is a nod to the mystery and allure of these lesser-known creatures. Pairing contemporary design with old folklore, Forbidden Forest celebrates the art of storytelling through a series of illustrations, making it accessible to people of all ages and backgrounds.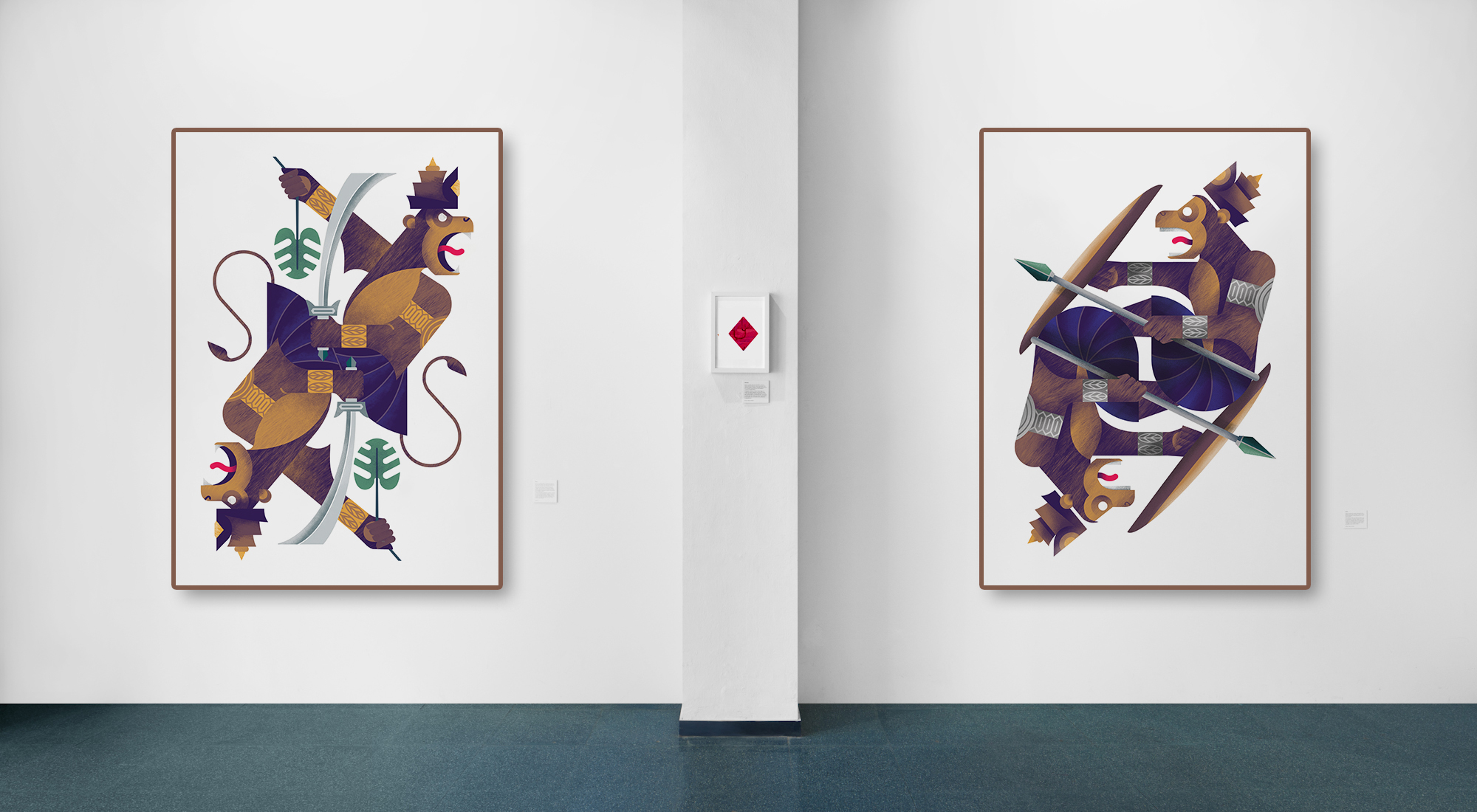 About the DesignTO Festival
We are thrilled to be amongst the 2019 Guest Artists & Designers hosted by Artscape Youngplace, as part of DesignTO. DesignTO runs from January 18-27, 2019, and takes design out of the studio and into the city, transforming the urban sphere into a celebration for all things design.
https://designto.org/event/forbidden-forest/