Foreign Policy By Canadians: All-Party Critics Debate / La politique étrangère par les Canadien·ne·s : Débat des porte-paroles politiques
About this Event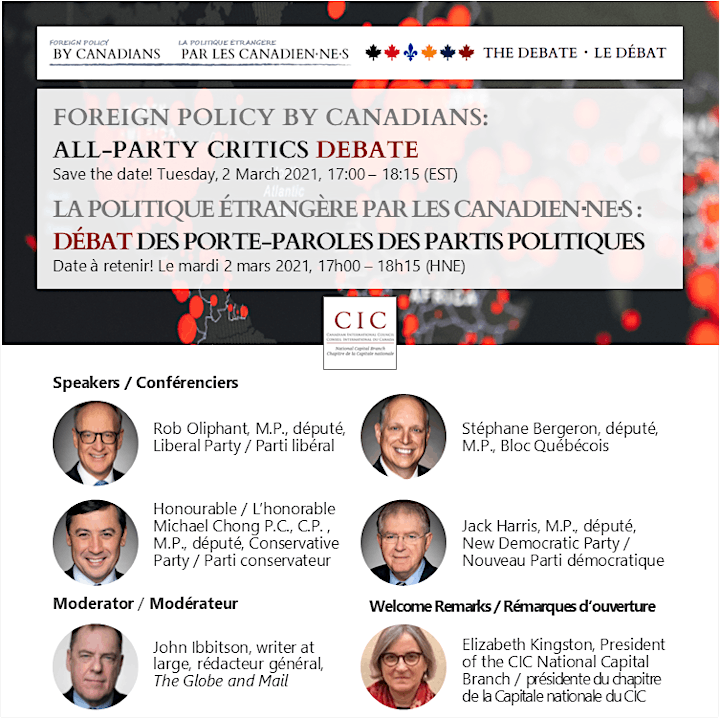 Le message en français suit l'anglais.
-
The Canadian International Council's National Capital Branch is pleased to invite you to take part in the upcoming,
FOREIGN POLICY BY CANADIANS: ALL-PARTY CRITICS DEBATE
Tuesday, 2 March 2021, 17:00 - 18:15 (EST), in English with simultaneous French interpretation. A virtual debate via Zoom.
Why foreign policy matters to Canadians and how do their perspectives strengthen Canada's place in the world? The CIC National Capital Branch is delighted to host this All-Party Critics Debate as part of the CIC's Foreign Policy By Canadians series of discussions in the areas of Global Health, Security, Dignity and Prosperity — a debate that will contribute to the national perspective of the strength of our nation in looking to foster an ever increasing influence on matters of global importance.
Join John Ibbitson and representatives of the major federal political parties for this debate on Canada's foreign policy priorities for the 2020s. With the world facing unprecedented adversity and the multidimensional crises brought by the pandemic, Canada's interests face greater challenges than ever before. The security of Canadians, the prosperity we enjoy, and the health of our communities is interdependent to what happens outside and within our borders.
SPEAKERS
Rob Oliphant, M.P. for Don Valley West, Ontario, Liberal Party
Honourable Michael Chong P.C., M.P. for Wellington-Halton Hills, Ontario, Conservative Party
Stéphane Bergeron, député, M.P. for Montarville, Québec, Bloc Québécois
Jack Harris, M.P. for St. John's East, Newfoundland and Labrador, New Democratic Party
MODERATOR | John Ibbitson, Writer at Large at The Globe and Mail
WELCOME REMARKS | Elizabeth Kingston, President of the CIC National Capital Branch
Expect a lively debate, followed by a Q&A period.
--
Le chapitre de la Capitale nationale du Conseil international du Canada vous convie à sa prochaine édition du débat :
LA POLITIQUE ÉTRANGÈRE PAR LES CANADIEN·NE·S : DÉBAT DES PORTE-PAROLES DES PARTIS POLITIQUES
Le mardi 2 mars 2021, 17h00 – 18h15 (HNE), en anglais avec traduction simultanée. Débat virtuel sur Zoom.
La politique étrangère est-elle importante pour les Canadien·ne·es? Qu'apportent leurs perspectives à la formulation de la place du Canada dans le monde? Le chapitre de la Capitale nationale du CIC a le plaisir d'accueillir le débat des porte-paroles des partis politiques, présenté dans le cadre de la politique étrangère par les Canadien·ne·s – une série de discussions sur la santé mondiale, la sécurité, la dignité, la prospérité et sur d'autres questions internationales importantes visant à bâtir une perspective canadienne sur les forces de notre pays et à augmenter son influence sur les enjeux internationaux.
Soyez des nôtres à ce débat en compagnie de John Ibbitson et des représentants des principaux partis politiques fédéraux pour discuter des priorités de la politique étrangère du Canada pour la décennie 2020. Dans un contexte international qui pose des défis majeurs et sans précédent, en plus des multiples crises entrainées par la pandémie mondiale, les intérêts du Canada se trouvent plus que jamais mis à l'épreuve. La sécurité des Canadien·ne·s, la prospérité dont nous jouissons et la santé de nos communautés sont intrinsèques à ce qui se passe en dehors et à l'intérieur de nos frontières.
CONFÉRENCIERS
Rob Oliphant, député de Don Valley-Ouest (Ontario), Parti libéral
L'honorable Michael Chong C.P., député de Wellington-Halton Hills (Ontario), Parti conservateur
Stéphane Bergeron, député de Montarville (Québec), Bloc Québecois
Jack Harris, député de St. John's-Est (Terre-Neuve-et-Labrador), Nouveau Parti démocratique
MODÉRATEUR | John Ibbitson, rédacteur général au Globe and Mail
REMARQUES D'OUVERTURE | Elizabeth Kingston, présidente du chapitre de la Capitale nationale du CIC
Ce débat animé sera suivi d'une période de questions et réponses :