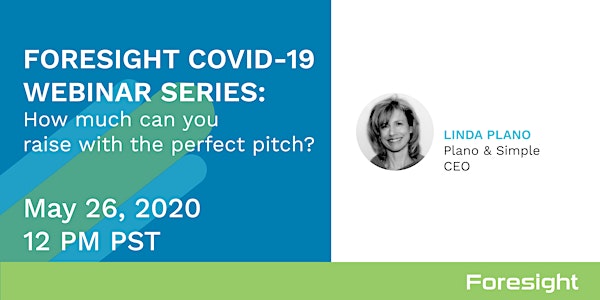 FORESIGHT COVID-19 WEBINAR: How much can you raise with the Perfect Pitch?
Online event presented by Foresight Cleantech to support ventures in times of fundraising.
Date and time
Tue, May 26, 2020 12:00 PM - 1:00 PM PDT
About this event
How much can you raise with the Perfect Pitch?
Bring your 1-minute pitch and find out!
Raising money to support your venture or organization (especially during these unprecedented times) is easier with the perfect pitch. Join pitch expert, Linda Plano, to learn the top tips and tricks for perfecting YOUR pitch.
Linda learned to coach as Associate Director of the Massachusetts Technology Transfer Center and co-founder of the precursor to the Cleantech Open Accelerator. She has coached over 1,000 entrepreneurs since 2005, who have gone on to raise well over $1.3B.
If you are a company or organization, this is the session for you. Let's pitch!
Webinar provided with the support of:
About the organizer
We bring together innovators, industry, investors, government, and academia to address today's most urgent climate issues and support a global transition to a green economy.
Cleantech Innovation Starts Here!