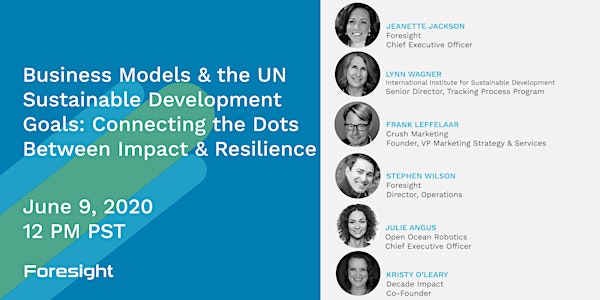 FORESIGHT COVID19 WEBINAR SERIES: How the SDGs Support Resiliency
Online event presented by Foresight Cleantech to discuss how the SDGs and a review of your business model support resiliency.
About this event
Now more than ever, understanding a global commitment to the Sustainable Development Goals is a great tool for your organizations success. For years, the Business Model Canvas has been a tool that SMEs and larger companies have used to use to prepare for launch, scale and growth. But times have changed. 
It is time to connect the dots on how impact and sustainability MUST connect to your business model if you want to remain relevant and competitive. Join us for a one-hour session on the SDGs and a look at the new Foresight impact BMC.
----
ADDITIONAL RESOURCES
Approach to impact and Climate Take Back:
How food connects all the SDGs:
Patagonia Environmental & Social Initiatives Booklet: