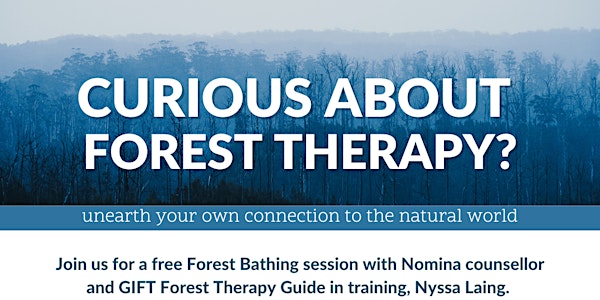 Forest Therapy Walk
Unearth your own connection to the natural world by bathing in the atmosphere of the Forest.
When and where
Location
Short Hills Provincial Park-Parking Lot C Wiley Road Thorold, ON L0S 1E6 Canada
About this event
Let's flourish this fall with the help of the forest. Nomina counsellor and GIFT Forest Therapy Guide in training, Nyssa Laing, will accompany you into Short Hills Provincial Park so you may unearth your own connection to the natural world.
Forest bathing, also known as Shinrin-Yoku, originated in Japan in the 1980's in response to increasing rates of declining well-being. Forest therapy encourages an inner state of peace and deep relaxation- a place where healing happens.
You will learn about some of the benefits of forest therapy and be guided in the practice. Forest bathing consists of sensory-based experiences known as invitations; gentle prompts to help engage all your senses (sight, sound, smell, taste, touch). Following each invitation, we will gather in a sharing circle. To end, we will come together over tea and a light snack to incorporate the experience and enjoy each other's company.
Preparation and Accessibility:
Please arrive for 9:45 am so we may begin our walk at 10 pm. We will be walking at a slow pace following the designated trail that includes uneven terrain and muddy sections. Please wear the appropriate footwear and clothing to match the terrain, weather, and ticks. Total distance is approximately 2 km and you may wish to bring a folding stool, sit pad, or cushion so you may interact with the forest in comfort. A bathroom is available on site. The walk will end at parking lot C.
NOTE: This program occurs rain or shine; please dress appropriately for the weather.
For more information on forest therapy, check out the links below:
Blog Post: https://www.nominawellness.ca/post/forest-therapy-green-prescription
Podcast: https://www.nominawellness.ca/mental-health-podcast/episode/774ed419/forest-therapy-a-green-prescription
YouTube Video: https://youtu.be/L1h0w8y4Mnk
For more information on the services Nyssa provides, see the following links:
https://www.nominahealth.ca/niargara-falls
https://www.psychologytoday.com/ca/therapists?search=nyssa%20laing