Plant trees with Nature Alberta and Root for Trees at Griesbach in Edmonton on Fathers' Day weekend!
About this event
Nature Alberta and Root for Trees are teaming up to plant Forests for Fathers on June 19th. Select your time slot: 10-12, 12:30-2:30, or 3-5.
Root for Trees has confirmed with Alberta Health Services that tree planting volunteer events are not considered social gatherings. Safety protocols will be shared with volunteers onsite, and volunteers will be asked to complete a COVID-19 pre-screening questionnaire upon check-in. All safe working conditions will be followed and we ask for you to bring your mask even though we are outside. Attendance is limited to allow for the required physical distancing between households. Sanitizer will be available and all touch surfaces will be cleaned between group activities. The safety of our guests/volunteers and staff is our highest priority.
In registering for this opportunity, volunteers agree to abide by the instructions and safety related rules while participating in this project.
What to expect: we will split into 2 groups of 10. Group 1 will join Root for Trees for a guided tree planting volunteer experience for 40 minutes. Group 2 will get their hands dirty making bee bombs with Nature Alberta to plant native flower seeds for pollinators and engage in an interactive giveaway with Root for Trees. *Whistle blows* and after 40 minutes, the 2 groups will switch.
There will be a porta potty on site.
Individually wrapped snacks and refreshments will be available.
Please bring:
- mask
- your own full water bottle to reduce waste
- wipes to help clean up after playing in the mud to make bee bombs
- sturdy, closed toed footwear is required to take part in tree planting efforts
- appropriate attire for the weather
- sunscreen and bugspray will be necessary
We will provide:
- gloves (one-time use)
- sanitizer
- shovels
- plants
- Bee Bomb activity materials
Location: Griesbach
- Griesbach Central Park is in the north central neighbourhood of Griesbach. The winding trail system will take you around the beautiful park. Root for Trees will be planting trees and shrubs along the naturalized, sloped areas to add diversity to the landscape.
Park Address:
- 14391 Sir Arthur Currie Way
Parking information:
- Neighbourhood street parking. Map link - https://goo.gl/maps/pnvjXV7q9jq5nSKZ9
Directions to site & Meeting location:
- The Griesbach naturalized planting area is easily accessed from Sir Arthur Currie Way.
Street parking is available along Sir Arthur Currie Way. Your program leader will meet you here and guide you to your planting site.
Park Amenities:
- Walking Trails
- Park Benches
- Nearby Playground
- Rock Park
Please contact Steph at info@naturealberta.ca or 780-427-8124 if you have any issues registering or require further information.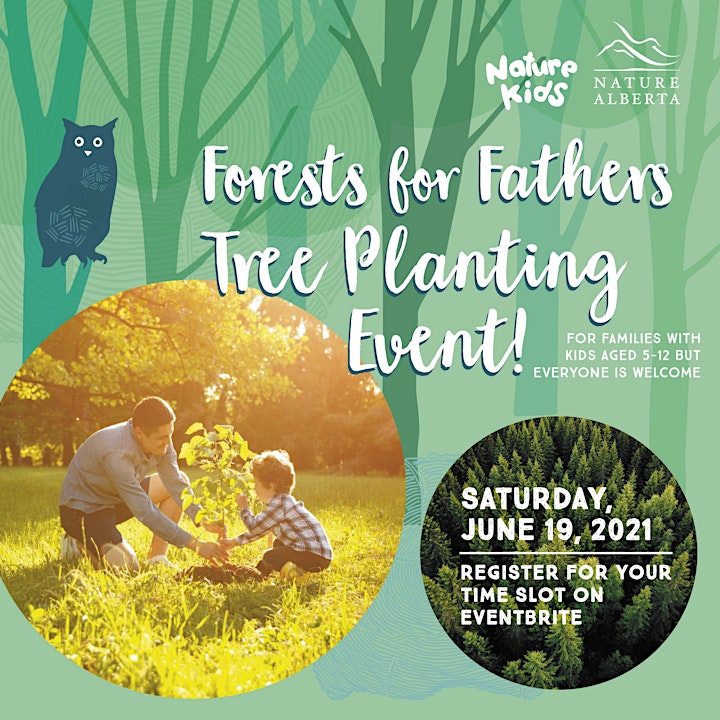 Organizer of Forests for Fathers
Nature Alberta is a federation of natural history organizations operating in Alberta. Through the programs and activities of Nature Alberta and its member clubs, Alberta's natural heritage is widely enjoyed, deeply appreciated and thoroughly protected. We are a community connected by a love of nature.