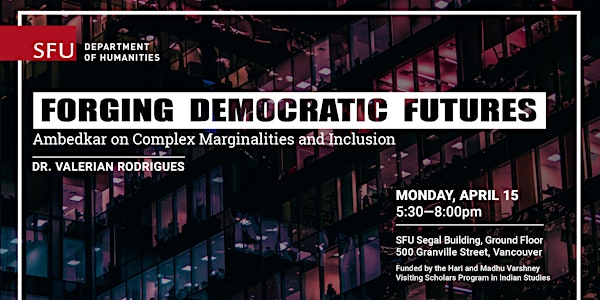 Forging Democratic Futures: Ambedkar on Complex Marginalities and Inclusion
When and where
Location
Segal Graduate School of Business 500 Granville Street Vancouver, BC V6C 1W6 Canada
Description
Forging Democratic Futures: Ambedkar on Complex Marginalities and Inclusion

Please join us for a free public lecture by Dr. Valerian Rodrigues, a visiting professor with SFU's Department of Humanities.This appointment is made possible through the Hari and Madhu Varshney Visiting Scholars Program in Indian Studies.
While India's national movement against colonial rule traced a trajectory of its own, B. R. (Bhimrao Ramji) Ambedkar, strove to give a distinct turn to it by avowing egalitarianism, constitutionalism, and moral grounding. This turn grappled with the marginality of the socially excluded untouchable communities from which he hailed, and the deep diversity constitutive of India. While he wrote extensively on prevalent social relations that upheld graded inequality, he was deeply aware of the overladen and intersecting modes of exclusion and oppression that characterised societies such as India.
An alumnus of Columbia University, New York, and London School of Economics, in early 20th century, Ambedkar sought to anchor public life on a distinct conception of democracy that resonated a post-colonial context seeking its self-definition. The talk is an engagement with and celebration of the thought and action of an iconic figure on the day following his birth anniversary.
Monday, April 15 |

5:30—8:00pm

SFU Segal Building, Ground Floor


500 Granville Street, Vancouver

Free public lecture
---
Speaker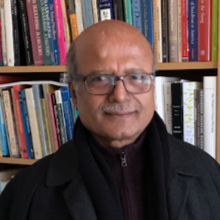 DR. VALERIAN RODRIGUES
Dr. Valerian Rodrigues is currently a visiting professor in the Department of Humanities at SFU, an appointment made possible through the Hari and Madhu Varshney Visiting Scholars Program in Indian Studies. He previously taught at Mangalore University, Karnataka, India (1982-2003), and Jawaharlal Nehru University, New Delhi, India (2003-2015). He was the Ambedkar Chair at Ambedkar University, Delhi (2017-2018).
His published works include The Essential Writings of B.R. Ambedkar (2002), and he co-authored The Indian Parliament: A Democracy at Work (2011), and Speaking for Karnataka (2018). He has edited Conversations with Ambedkar: 10 Ambedkar Memorial Lectures (2019). He was Senior Visiting Professor at Julius Maximilians University, Würzburg, Germany (2012) and Indian Council of Cultural Relations (ICCR) Chair in Contemporary Indian Studies at Erfurt University and Fellow of Max Weber Kolleg, Erfurt, Germany (2012).
He was Agatha Harrison Fellow, St. Antony's College, Oxford University (1989-1991). He received the University Grants Commission National Swami Pranavananda Saraswati Award for Political Science in 2011, and was National Fellow of Indian Council of Social Science Research (ICSSR) (2015-17). He served as a member of the Advisory Committee for the international conference, Quest for Equity: Reclaiming Social Justice, Revisiting Ambedkar (2017).