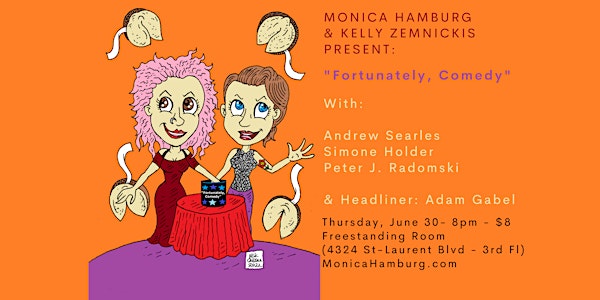 Fortunately, Comedy (with Monica Hamburg & Kelly Zemnickis)
A fun night of comedy with comics from the US, Toronto, and Montreal! + Fortune cookies. At The Freestanding Room (4324 Blvd St Laurent)
When and where
Location
Freestanding Room 4324 Boulevard Saint-Laurent Montréal, QC H2W 1Z3 Canada
Refund Policy
Contact the organizer to request a refund.
Eventbrite's fee is nonrefundable.
About this event
Comedians Monica Hamburg and Kelly Zemnickis present this quirky comedy show where comedians, imported and local, get a fortune cookie at the end of their set & let us know just how fortunate it makes them feel.
Thursday, June 30, 2022 at 8pm
(doors at 7:30pm)
The Freestanding Room (4324 Boulevard Saint-Laurent, 3rd floor),
Guests: Andrew Searles, Simone Holder, Peter J. Radomski
& Headliner: Adam Gabel
(Tickets $8 + Eventbrite fees)
Note: Show is in English
--The Comics--
Monica Hamburg is a comedian and producer in Montreal. Festival credits include: Los Angeles' Laugh Riot Grrrl Comedy Festival 2022 (and a couple of other years), Nashville's 2018 Broken Record Show, where she was chosen as one of the "Bestival of the Festival", and Just for Laughs Northwest and Off-JFL/Zoofest (on "Tinder Tales"). Her one-person show, "$50 Future" was at NYC's SoloCOM 2019. She has also done many storytelling shows - especially, "The Stories We Don't Tell" (2 of her stories are in their book). She is the producer of a few shows, including "Pornomedy", a comedy show about porn. "Pornomedy" sold out in October 22nd, 2021 and was popular at 2019's Montreal Comiccon, Fringe After Dark, 2019's Festival De La Bete Noire, and 2018's Toronto's "New Forms Festival". As a result, her reputation is indelibly linked with porn. Her Eastern-European mother is very proud.
Kelly Zemnickis is a Toronto based comedian/ documentary filmmaker & host of the YouTube baking series It'll Be Fine: A Baking Show. She recently featured at Laugh Riot Grrrl Festival in L.A. And she'll be recording her comedy album with Howl & Roar Record on June 25th. She is also one of the producers of "No Responders Left Behind" (Paradox Pictures/Blue Ant Media/Discovery Plus), a documentary about 9/11 responder and advocate John Feal. The film has was nominated for a Canadian Screen Award in 2022 (Donald Brittain Award for Best Social/Political Documentary Program). It is now showing on Discovery Plus.
Andrew Searles: Born and raised in Montreal, Canada, Andrew Searles has been named in the "Top 10 Best Stand-up Comedians in Montreal" four years straight by the Montreal Mirror, heard on XM Sirius Radio "Just for Laughs Canada", was one of the Top 10 finalists in the Russell Peters XM Sirius "Best Funny Five" competition, and a finalist in the Los Angeles KLIQ Comedy Competition. He also made festival appearances at the Calgary Folk Festival, the Cracking up the Capital Ottawa Comedy Festival, the Natal Day Comedy Gala Festival in Halifax, the Palm Springs Comedy Festival and the Burbank Comedy Festival. In 2013, Andrew made his Canadian Network debut on the Stand-up Comedy show "No Kidding". In 2018, Andrew released his first comedy album, "Papa Chocolat!" on iTunes, Amazon, Spotify, and Google Music, which has garnered over 700,000 plays online worldwide.
Simone Holder: Since performing her first set in September 2019, Simone Holder has performed throughout Ontario, Quebec, and Nova Scotia. In September 2021 she won the "Mike MacDonald Summer Comedy Competition" held at Yuk Yuk's Ottawa becoming the first woman of colour and the second woman to win. In May 2022, she performed in the Just for Laughs Festival showcase held at Yuk Yuk's Ottawa. In April 2022 she was a part of an Ottawa, all-woman comedy showcase and compilation album recording called "Morally Bankrupt" by Howl & Roar Records (due out ~ December 2022). She made her comedy festival debut in March 2022 at the Crackup Comedy Festival held in Ottawa, Cornwall, and Pembroke. Known for her soft-spoken delivery, sweet demeanour, and hilarious, unexpected punchlines, Simone is quickly making a name for herself in the local comedy scene.
Peter J. Radomski first tried stand-up at the age of eleven when his music teacher encouraged him to make the audience laugh in lieu of singing at the school's annual Christmas concert when he discovered Peter couldn't carry a tune.A regular feature & MC at both clubs in Montreal, he has also performed in Ottawa & New York City. Previous festival appearances include Just For Laughs, Laval Laughs, Festival OFF Quebec, and ZooFest (JFL) where he placed second in the El Drole Comedy Competition in 2015. He also loves elephants. For the moment, the building he lives in only welcomes cats.
Adam Gabel is quickly gaining attention among comedy fans as "The Guy with The Voice and The Hat". His quick wit, charming stage presence and off kilter delivery has earned him frequent comparisons to Mitch Hedberg and Steven Wright. The Brooklyn Native is a regular at New York's West Side and Grisly Pear Comedy Clubs, has been Featured in the Make Me Laugh and Hoboken Comedy Festivals as well as The World Series of Comedy, and is making a name for himself at venues across the country, all while regularly opening for some of the industry's most popular comedians and Headlining shows in all 4 Continental Time Zones. When not performing or writing new material, Adam can be found in Brooklyn Parks feeding Quinoa to hipster pigeons.
---
MonicaHamburgLive.com
Questions? Feel free to contact me via the form at MonicaHamburg.com