About this Event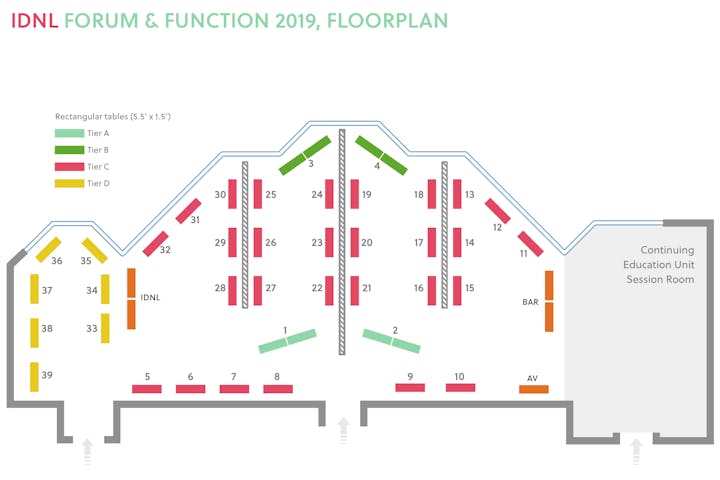 REGISTRATION OPTIONS:
Continuing Education: Workshops for interns, designers, and architects seeking CEU credits. This ticket includes free tradeshow attendance. Details below under "Education."
Tradeshow Table: Reserve your space to showcase the best of your new product line. Layout above. Table selection will be made in order of purchase.
Partnership: Select an exclusive partnership opportunity to ensure your brand is front and centre.
Public Tradeshow Attendance: Drop in (free!) to take a look at the newest lines in interior design.
ABOUT THE INTERIOR DESIGNERS OF NL:
IDNL is a professional advocacy body that works to advance the profession of qualified interior designers, and to perform regulatory tasks in the interest of its members and the general public. The association is committed to upholding the established standards of accredited education, work experience, and examination requirements in accordance with our professional mandate.
ABOUT THE EVENT
TRADESHOW | This year's free tradeshow is presented in partnership with NL Architecture Week and is open to all to view (registration encouraged). For the full Architecture Week Event listing, visit www.nlarchitectureweek.com.
EDUCATION | The 2019 Continuing Education Sessions will explore best practices in designing the physical environments for childhood education:
1. Neuro-Spaces: Designing Learning Settings That Calm Neurology and Increase Learning Outcomes. Lisa Pinhorn, Feeding Futures.
For this generation of children, stressors are everywhere - and that includes many hidden stressors within the design of traditional learning settings. We often underestimate how structures and design can impact cognition and mood. Macro and micro spaces within learning settings can trigger anxiety or calm it. The science of Neuro-Spaces can support emotional regulation, turn down stress responses and increase learning outcomes.
2. Artist Talk - Art of Place. Recent Artwork by Will Gill.
Multidisciplinary artist Will Gill has spent the last 20 years making work that connects deeply with place. Please join him as he presents work inspired by the landscape and culture of Newfoundland.
3. From 'Chalk & Talk' to 21st Century Learning Environments. John Hancock, Stantec. FREE SESSION; in partnership with NL Architecture Week.
John will outline the design criteria and engagement process for delivering great schools. Participants will learn about the journey from 'chalk and talk' schools to spaces which can support a 21st century learning environment. John will also provide an overview of alternative approaches to procurement which have delivered exemplar schools overseas and explore the opportunities to deliver future learning and teaching environments in NL which enthuse, inspire and nurture all who use them.