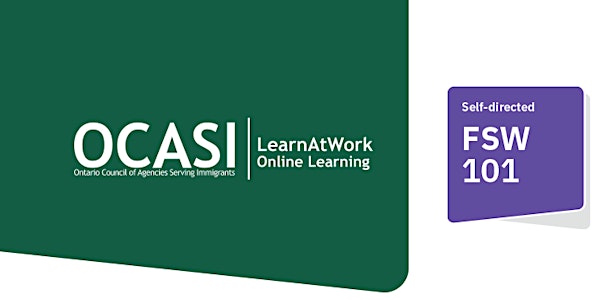 Foundations of Settlement Work, Level 1
The Foundations of Settlement Work, self-directed e-learning Professional Development training program for Settlement Service Providers.
About this event
Foundations of Settlement Work in Ontario, Level 1, provides more in-depth training materials on the immigrant and refugee serving sector.
The FSW Self-directed courses will run from Oct 20 to Dec 25, 2022.
Upon completion of the FSW Level 1 Training, you will be able to:
1. Demonstrate awareness of the Indigenous peoples in Canada and the treaty obligations to them.
2. Start thinking about how federal and provincial immigration policies and programs have affected settlement work.
3. Discuss the various IRCC categories and programs for workers, investors, and family members to enter Canada.
4. Understand how people in Canada can end up without immigration status
This course is available in English and French languages.
If you have any questions, please do not hesitate to contact tsultan@ocasi.org.
Registration ends on Oct 15, 2022
OCASI is committed to supporting the settlement sector to create a welcoming, positive and inclusive spaces for all. This course will allow settlement sector employees to acquire new skills and knowledge in service provision areas to immigrants and refugees within the settlement sector.