About this Event
La proportion d'entrepreneurs aux prises avec une forme ou une autre de problèmes de santé mentale est sept fois plus élevée que la population en général. Le taux de suicide chez les fondateurs d'entreprises est également anormalement élevé. Ces faits sont malheureusement trop souvent passés sous silence !
À la suite "d'épisodes" aigus de maladie mentale (bipolarité dans mon cas), j'ai réalisé que j'étais loin d'être seul dans cette situation et qu'il pouvait exister des moyens d'aider les entrepreneurs ET leur entourage immédiat.
FoundersMentalHealth est créé pour aider les fondateurs d'entreprises vivant des états de grande fragilité et de solitude. Les trois principaux piliers sont:
[dé]stigmatiser les problématiques de santé mentale vécues par les entrepreneurs et les investisseurs;
Créer un espace ouvert à la discussion, au partage d'expériences et de pistes de solutions tant pour les fondateurs que pour leurs cofondateurs, amis, conjoints, famille, etc;
Mettre en vitrine les startups offrant des solutions à la gestion de la santé mentale.
-------------------
The proportion of entrepreneurs struggling with some form of mental health problem is seven times higher than the general population. The suicide rate among founders of companies is also abnormally high. These facts are unfortunately too often hidden!
As a result of acute "episodes" of mental illness (bipolar disorder in my case), I realized that I was far from alone in this situation and that there could be ways to help entrepreneurs AND their immediate surroundings.
FoundersMentalHealth is created to help founders of companies living in states of great fragility and loneliness. The three main pillars are:
[de] stigmatize mental health issues experienced by entrepreneurs and investors;
Create an open space for discussion, sharing of experiences and solutions for both the founders and their co-founders, friends, spouses, family, etc .;
Showcase startups offering solutions to mental health management.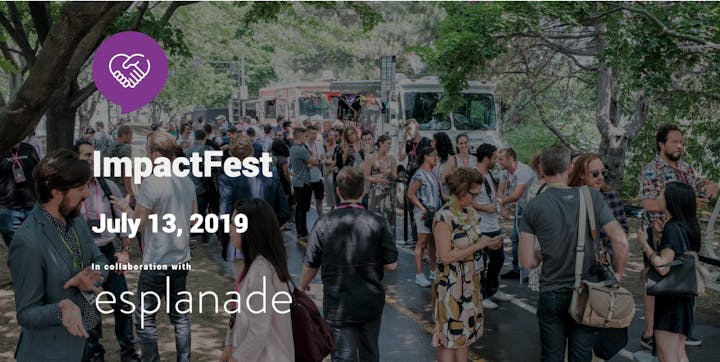 Lancement de FoundersMentalHealth
Dans le cadre de l'ImpactFest organisé par le Startupfest et Esplanade, qui aura lieu le 13 juillet prochain, j'invite celles et ceux qui se sentent interpellés par la démarche à venir faire un remue-méninge. Votre créativité sera la bienvenue pour proposer des moyens d'action que nous pourrions mettre en place concrètement pour "activer" les trois piliers de FMH.
L'événement est ouvert aux personnes suivantes :
Les fondateurs d'entreprises ayant vécu - ou en train de vivre - des épisodes de fragilité au niveau de la santé mentale et désirant partager leur expérience;
L'entourage de ces fondateurs (cofondateurs, investisseurs, amis, conjoints, famille, etc.) qui sont souvent démunis face à la maladie mentale;
Les startups ayant développé des solutions de gestion de la maladie mentale qui pourraient être appliquées aux entrepreneurs.
Programme
13:00 – Mise en contexte et mot d'ouverture de Jessica Carson, fondatrice de Wired This Way (Washington DC)
13:20 – Atelier en groupe no 1 > Les enjeux de santé mentale vécus par les entrepreneurs et leur entourage
13:40 – Atelier de groupe no 2 > Les solutions actuelles ou souhaitées pour soutenir les entrepreneurs aux prises avec des problématiques de santé mentale
14:00 – Retour sur les ateliers et liste de cinq axes d'action d'ici le 31décembre 2019
14:20 – Conclusion et fin de l'activité
-------------------
FoundersMentalHealth Kick-Off
As part of the ImpactFest organized by Startupfest and Esplanade, which will take place on July 13, I invite those who feel concerned by the process to come and brainstorm. Your creativity will be welcome to suggest ways in which we can take concrete action to "activate" the three pillars of the WFH.
The event is open to the following people:
Startup founders who have experienced - or are experiencing - episodes of mental health fragility and want to share their experience;
The entourage of these founders (co-founders, investors, friends, spouses, family, etc.) who are often helpless in the face of mental illness;
Startups that have developed mental illness management solutions that could be applied to entrepreneurs.
Program
13:00 – Introduction and opening remarks by Jessica Carson, founder of Wired this way (Washington DC)
13:20 - Group Workshop # 1> Mental health challenges experienced by entrepreneurs and their entourage
13:40 - Group Workshop # 2> Current or desired solutions to support entrepreneurs struggling with mental health issues
14: 00 - Review of workshops and list of five main actions to be developed by 31 December 2019
14:20 - Conclusion and end of the activity
Francis Beaulieu
Fondateur/Founder
FoundersMentalHealth.org