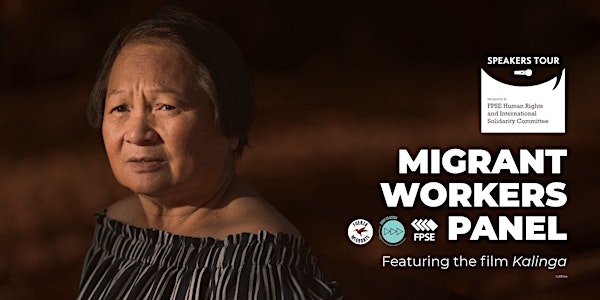 FPSE Human Rights and International Solidarity Committee presents Kalinga
Join us for a short film screening followed by a discussion of the experiences of caregivers and migrant farm workers in BC and Canada.
Refund Policy
Contact the organizer to request a refund.
Eventbrite's fee is nonrefundable.
About this event
When you register for this event, your confirmation email includes a link to participate in the online screening of Kalinga and the panel discussion immediately following.
Panelists
Kent Donguines, filmmaker
Maria Facundo-Lilly, film participant
Representatives from Fuerza Migrante
Natalie Drolet, Staff Lawyer and Executive Director at the Migrant Workers Centre
Moderators
David Sadoway
L. Eduardo Azmitia
Kalinga (Care)
At the age of six, director Kent Donguines' mother left him and his family in the Philippines to become a nanny overseas. Now, his film Kalinga (Care) shares the stories of several Filipina caregivers and nannies in Vancouver, bearing witness to their sacrifices as they struggle to reunite with their children and families, and mapping out the emotional landscapes of migrant labour. Despite the sacrifice these caregivers make to support their families, the work of nannies isn't properly honoured by their communities or themselves. We want to change that by telling this powerful story, and by providing resources to help workers stay in touch with the families they've left behind.
If you wish to support more screenings promoting the use of film for impact, please donate here: https://www.storymoneyimpact.com/donate
Fuerza Migrante
Fuerza Migrante is a community organization that seeks to transform a world stained by exploitation and injustice. We work to build an autonomous movement of migrants, based on mutual aid and community self-defense.
If you would like to support the work of Fuerza Migrante, please donate here: https://donorbox.org/support-fuerza-migrante
Website: https://fuerzamigrante.ca/
Migrant Workers Centre
Established in 1986, Migrant Workers Centre (MWC) is a non-profit organization dedicated to legal advocacy for migrant workers in BC. MWC facilitates access to justice for migrant workers through the provision of legal education, advice and full representation.
The organization also works to advance fair immigration policy and improved labour standards for migrant workers through law and policy reform and test case litigation.
If you would like to support the work of the MWC, please donate here.
Website: https://mwcbc.ca/
Kent Donguines, Director
Kent Donguines is a Filipino-Canadian filmmaker based in Vancouver, BC. He produced the award-winning CBC short documentary The Ink Runs Deep, which premiered at the 2019 Toronto International Film Festival. He wrote, directed and produced the Telus Storyhive short, Kalinga (Care), a documentary about the sacrifices Filipina nannies make to work in Canada. He also produced award-winning short films Iridescence, Small Fish (Crazy8s film), and Grey. Donguines has worked for production companies in Canada and the Philippines, including Cedar Island Films Inc., Black Cap Pictures (Ten17p), Viva Entertainment, and Star Cinema.
Maria Facundo-Lilly, Film Participant
Maria founded the Reliable Nanny and Caregiver Placement Agency in Vancouver in 2005 and has a commitment towards every family to provide quality childcare and elder care. She is a graduate of the Bachelor of Elementary Education program and worked as a classroom teacher or private tutor for five years in the Philippines. In addition, she has personally worked for more than twelve years as a nanny in different countries namely: Singapore, Taiwan, Hong Kong and Vancouver. Maria believes that to be successful, one has to establish long-term relationships, and to do this one has to have respect for and trust in each other.
Natalie Drolet, Staff Lawyer/Executive Director, Migrant Workers Centre
Natalie joined MWC as Executive Director – Staff Lawyer in November 2014. Her legal practice focuses on the areas of immigration law and employment law, and she has represented migrant workers before all levels of court in BC. Natalie has been active in the fields of migration and human rights since 2003 when she worked as a researcher in Thailand for Rights & Democracy. Before joining MWC, she served as the Staff Lawyer for a multilingual access to justice initiative with a community legal clinic in Ottawa. Prior to this, she worked in Phnom Penh, Cambodia as a Legal Advisor and managed initiatives to advance the rights of domestic workers with the Legal Support for Children and Women.
David Sadoway
David Sadoway is a Faculty-Instructor in both the Department of Geography and the Environment, and the Department of Policy Studies at Kwantlen Polytechnic University. He is the Kwantlen Faculty Association's Human Rights and International Solidarity Rep.
L. Eduardo Azmitia
HRISC member Eduardo Azmitia is a Faculty-Instructor in the Department of Economics at Capilano University. He is the President of the Capilano Faculty Association and he developed an interest in Human Rights and International Solidarity from his experiences in Guatemala.