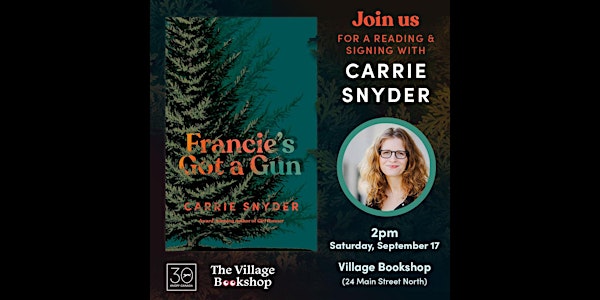 Francie's Got a Gun Reading with Carrie Snyder
Join us on September 17 in the Village Bookshop garden for a reading and book signing with "Francie's Got a Gun" author Carrie Snyder.
When and where
Location
The Village Bookshop 24 Bayfield Main Street North Bayfield, ON N0M 1G0 Canada
About this event
A suspenseful and poignant tale from an award-winning writer about a girl navigating chaotic family life in a close-knit small town.
On a June afternoon in a small city, a wild-eyed girl named Francie dashes down a neighbourhood street, clutching a gun. She doesn't know exactly what she's running from, and she doesn't know what she's heading towards. All she understands is the need to survive. To save herself, she has no choice but to run—and to save those she loves, she must hold tight to that gun.
Swirling around Francie is a chorus of friends, family, and neighbours, each person with a different view of her. As we hear from these voices—Francie's steadfast best friend, Alice; Alice's comically unaware mother, Sally, and struggling mathematician father, David; Francie's distressed and distracted mother, Marietta, and troubled, unwell father, Luce—a fractured portrait emerges of the girl and the village surrounding her. And at last we arrive at a still point in the chaos: a tall tree where Francie takes shelter, and where the meaning of her flight—for herself, and for the people around her—becomes clear.
In Francie's Got a Gun, award-winning writer Carrie Snyder assembles a chorus of unforgettable characters who are both well-intentioned and flawed. At their centre is Francie, a vulnerable, imaginative girl with surprising attachments to each of them. Here is a propulsive, polyphonic, heart-expanding novel—equal parts sorrow and humour, fear and love, anger and kindness—about social breakdown and the quest for connection in a close-knit community.
Carrie Snyder is an award-winning Canadian writer who has published three books of literary fiction and two books for children. Her most recent, bestselling novel, Girl Runner, was a finalist for the Writers' Trust Prize and published in twelve countries. Her novel-in-stories, The Juliet Stories, was a finalist for the 2012 Governor General's Literary Award for Fiction. She is a consulting editor for The New Quarterly magazine and publishes an award-winning literary blog, Obscure CanLit Mama. Carrie Snyder lives in Waterloo, Ontario.