Francis Libermann CHS Mass & 40th Anniversary Celebration!
Description
Calling all alumni, former staff and community members of Francis Libermann Catholic High School!
Come celebrate the 40th anniversary of FLCHS!
Light refreshments will be served as you explore the old stomping grounds and reminisce with old friends, teachers and administrators.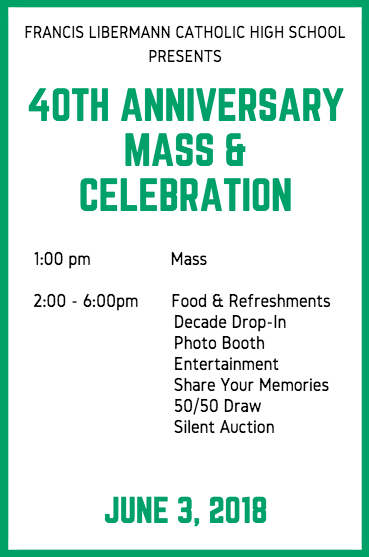 Important Info for Attendees:
Parking: Parking is limited at the school. Please park at Albert Campbell C.I. or at Woodside Square. To avoid being ticketed, please print out your PARKING PASS. ( CLICK HERE )
**All proceeds from this event will be used to purchase an icon of Francis Libermann for the school and for a donation to the Spiritans. **