Description

WHAT: Benefit Screening of ROXY: THE MOVIE to Help Save Zappa's Vault
WHEN: Thursday, April 14, 9:30PM
WHERE: Revue Cinema, Toronto, ON, 400 Roncesvalles Ave.
WHAT: Canada's first-ever theatrical screening of the definitive Frank Zappa concert film ROXY: THE MOVIE and other special Zappa footage. Your ticket purchase will help save Frank Zappa's legendary private archives and make the definitive Zappa movie.
MORE: http://zappamovie.com/roxyscreenings
Fans of Frank Zappa, rock music, the 1970s, and general absurdity: Join us for a very special, one-night-only screening of the legendary Zappa concert film ROXY THE MOVIE — in theaters for the first time! — plus a Skype Q&A with filmmaker Alex Winter!
The proceeds from every screening go to WHO THE F*@% IS FRANK ZAPPA?, a Kickstarter campaign raising funds to make the first all-access documentary about Frank Zappa, and to help recover and preserve the aging contents of Zappa's legendary private archive. whoisfrankzappa.com
ABOUT ROXY THE MOVIE
Frank Zappa's concerts at the Roxy Theatre in Hollywood in December 1973 are legendary. Frank and the Mothers played three nights on December 8, 9 & 10, and these shows formed the basis of the Roxy & Elsewhere album released in 1974. The performances were filmed in 16mm and locked away in the Vault. Recently fully restored by the Zappa Family Trust and never before released in theaters, this live concert film captures Frank and the Mothers at the height of their powers and includes material that is unique to these performances. Running time: 116 min. Rated R.
IT'S NOT JUST A SCREENING — IT'S A BENEFIT!
Frank Zappa is one of the strangest, most amazing, prolific, and influential cultural icons of our era, but believe it or not, his complete story has never been told. Now, for the first time ever, the Zappa Family Trust has handed over complete, unrestricted access to the contents of Frank's private archives — a.k.a. the Vault — and their full support, to a filmmaker who wants to tell Frank's definitive story:
Alex Winter (director Deep Web, Downloaded; actor Bill & Ted's Excellent Adventure) is running a massive Kickstarter campaign now through April 8, calling on fans to help preserve the contents of Zappa's Vault and tell his story. All proceeds from this screening will be donated to the effort, and attendees who sign up on the Who the F*@% is Frank Zappa mailing list at the theater and back the project on Kickstarter will get bonus Frank Zappa media from Alex & his team.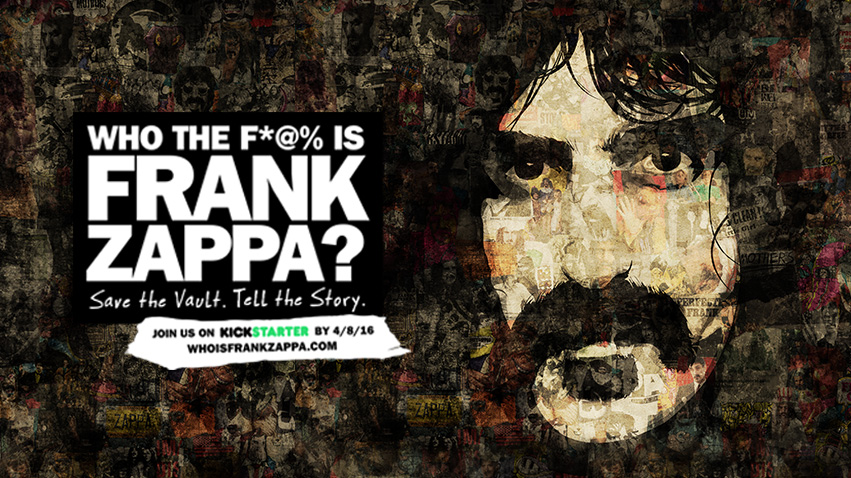 Join us for this one-time-only special event of one of Zappa's most beloved concert films and other rare Zappa clips, and help Alex Winter SAVE THE VAULT and answer the question once and for all: Who The F*@% is Frank Zappa?
More info at whoisfrankzappa.com and zappamovie.com.