Description
Franklin Island is situated on the eastern shores of Georgian Bay, a short distance from the mainland. The landscape is classic Georgian Bay with low-lying terrain and exposed bedrock. The photographic opportunities here are endless. There is close to a kilometer of shoreline to explore and an excellent vantage point both for sunrise and sunset photos.


OVERVIEW
• Cost: $675
• 3 days / 2 nights
• Space is limited to 6 participants only

This workshop is for beginner and intermediate-level photographers. We'll be camping and sleeping under the stars but don't think of this workshop as roughing it – far from it. A boat shuttle will take us to our designated spot where we'll spend our weekend. We'll have chairs, tables and even a ipad for reviewing images. All very civilized.
We keep our workshop groups small, so what you'll receive is hands-on, one-on-one photography instruction. If you're just a beginner, not to worry, we'll cover the basics of camera control, including aperture, shutter speed and ISO – how and when to use them. Over the course of the weekend we'll discuss composition and how to create engaging and powerful images.
Photo critique is a big part of the process. We'll have a ipad on hand to review and critique your images. This gives you an opportunity for immediate feedback which is critical in the learning process. We'll also show you how to post processing your images. In digital photography the image capture is just the beginning, the real fun is creating your images in post production.
What are you going to learn?
By the end of the workshop you'll have a solid foundation of photography. You'll understand how to scout a location, pick the best spot, compose your photo and get that amazing result. You'll have a clear undertanding of how to post-process you images.

Franklin Island Gallery (click on image below)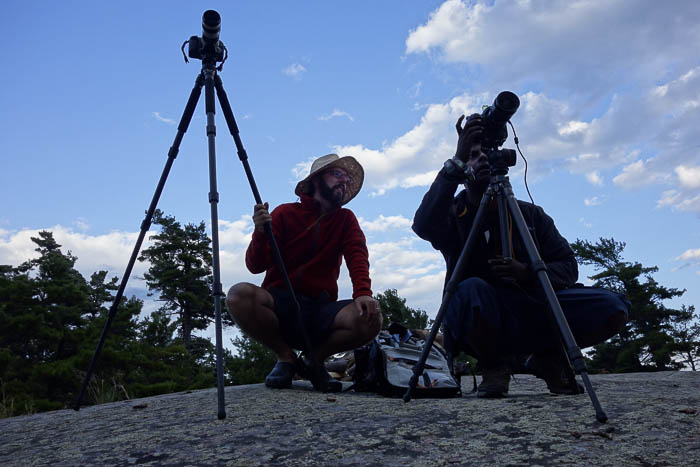 OVERVIEW
The group meets at 4pm at Gilly's Snug Harbour Marina. Directions and a detailed list of equipment will be provided to workshop participants.
If you need to rent outdoor gear White Squall Outfitters is the place to visit – just a short detour on your way in. If you're coming from the Toronto or Barrie area, MEC has gear you can rent as well.
DAY 1:
We meet at 4pm at Gilly's Snug Harbour Marina. An arranged boat shuttle takes us to our campsite, which will be our home for the next 2 days. We set-up and have the rest of the evening for photography including the sunset. If the sky is clear we'll have an excellent opportunity for some star photography as well.
DAY 2:
Up bright and early to capture the sunrise. After breakfast, we start today's photo session with instruction and lots of photography. We'll take a break for lunch and then back to photography. In the evening we gather for a group potluck dinner and then venture out for sunset. We'll take some time on Saturday to go over the post production process and review images.
DAY 3:
An early morning start again to capture the sunrise. Breakfast, then more photography. Our boat shuttle arrives just after lunch to take us back to the put-in where we depart back home.
FAQS

What about meals?
All meals are included in the cost of the workshop. Everything is prepared on-site and guaranteed to be delicious! We will accommodate those with special dietary restrictions (eg. vegetarian) Meals include:
• Friday wine + cheese meet
• Saturday breakfast, lunch and dinner
• Sunday breakfast and lunch
• Tea, coffee and drinking water

What's included in this workshop?
• expert photography instruction
• daily critiques
• boat shuttle to/from location
• all meals

What's not included in the workshop?
• camera equipment
• camping equipment (tents, sleeping bags etc..)
• parking fees
• transportation to/from location
If you have questions about this workshop, please send us an email.
www.outdoorphotojourney.com