Description
On the last weekend of April, Fraser Valley Comedy is celebrating it's 2 year anniversary and on Sunday April 30th Old Yale Brewery has graciously made a Fraser Valley Comedy Show their first event in their new Tasting Room.
Doors Open at 7:15. Show Starts at 8pm.
There is LIMITED CAPACITY SEATING - book now!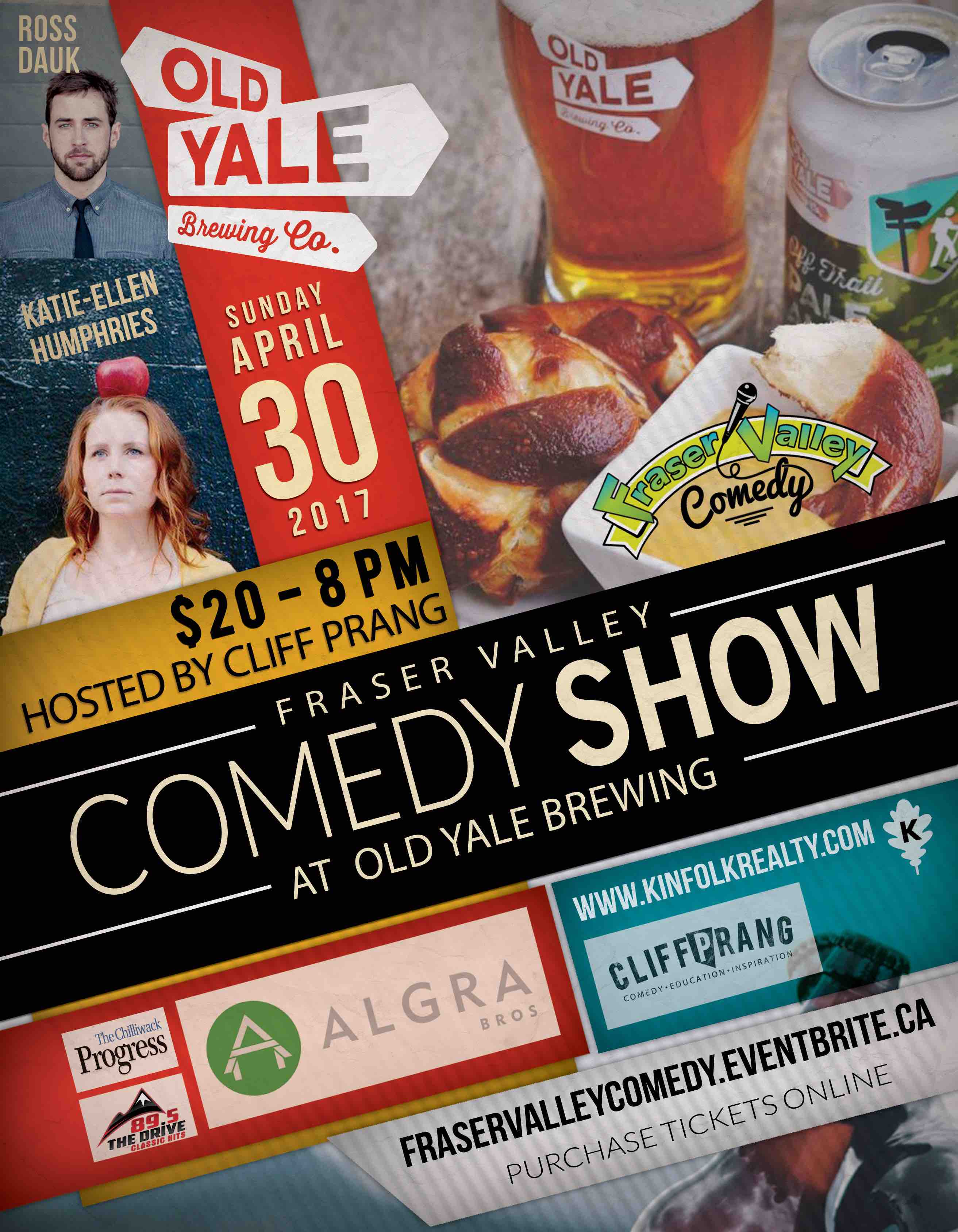 ABOUT THE COMEDIANS:
HEADLINER - Katie-Ellen Humphries is making a name for herself as an emerging comedic talent throughout Canada and the U.S. A featured performer at the Just For Laughs NorthWest Festival, The Bridgetown Comedy Festival, San Francisco Sketchfest and The Bumbershoot Music & Arts Festival, Katie-Ellen delights audiences with her unique voice, hilarious perspective and sharp wit (to say nothing of those dimples).
Recent TV appearances include "The Funny Pit" (CMT),"She Kills Me" (APTN), The Winnipeg Comedy Fest "Food, Glorious Food" Gala (CBC) and The Ha!ifax Comedy Festival (CBC). She can currently be seen as a panelist on the comedy talk show "Morgan Brayton & Other People" on OUT-TV and appears on CBC Radio's The Debaters.
FEATURING - Ross Dauk is an award-winning comedian based in Vancouver, BC. Headlining across Canada he has developed an original, passionate style that is honest, crowd- pleasing and memorable. Ross was named Best Stand-up Comedian in Vancouver by The Georgia Straight (2015), has been featured in Just for Laughs 42, JFL Northwest and CBC's Laugh Out Loud. He produces and hosts his own weekly stand-up show called Jokes Please! that Splitsider magazine called one of Vancouver's best comedy shows and was named Best Hidden Gem in Vancouver by The Westender (2016). Also, he wants everyone reading this to have a good day.
HOST - Cliff Prang is a professional actor and comedian and amateur stay-at-home dad. He has over 22 years of professional improv comedy with VancouverTheatreSports, The Panic Squad & now Funny Brothers Improv. You may have seen him struggle to get to sleep in the latest Sleep Harmony Ad or whistling for his Kids to wear their Life Jackets in the Preventable Injuries ad. As a stand up he has shared the stage with many Canadian Comic Power Houses including legendary Mike MacDonald & SNL's Chris Kattan. As a Yarrow resident, Cliff is very proud to have helped launch Fraser Valley Comedy in Chilliwack and happy to see how excited audiences are for the opportunity to see quality comedy in the Valley. Cliff is funny, clean, sassy and with his Reader's Digest feature coming in June, it's safe to say he's your mom's favourite comic.
See you at the show! Let's laugh together!