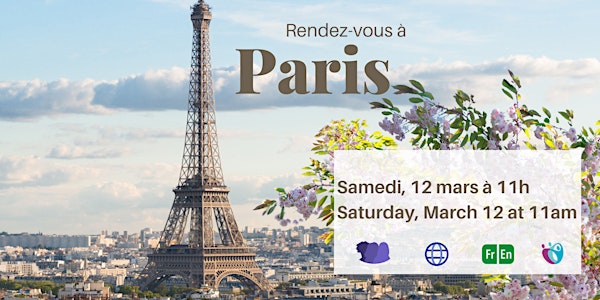 Frayez-vous un chemin vers Paris! | Find your way to Paris!
Apportez vos lunettes roses et préparez-vous à vivre la vie en rose | Bring those rose-tinted shades and prepare to live la vie en rose.
About this event
(an English description follows)
Lien Zoom: https://woyago.zoom.us/j/89767208607?pwd=SG5tMVA4eGxKbEh2UUVjNVRNRVNnZz09
A l'occasion du Mois de la Francophonie, venez nous rejoindre le samedi 12 mars à 11h et découvrons l'une des plus belles villes du monde : Paris ! Découvrez de beaux sites, écoutez des histoires hilarantes et interagissez en temps réel avec un guide parisien pendant qu'il vous fait visiter la Ville des lumières. Un deuxième guide parisien fournira du contexte, des photos et des blagues supplémentaires à partir d'un deuxième écran. Vous aurez également la chance d'apprendre des histoires uniques de monuments classiques : Pourquoi la tour Eiffel a-t-elle été construite ? Pourquoi l'Amérique a rendu le Louvre aussi célèbre qu'il l'est ?
Peut-être que ce voyage virtuel en direct vous fera voir la vie en rose à travers un écran d'ordinateur au lieu de lunettes, mais il vous fournira tout de même des souvenirs pour toute une vie. Que vous vous rendiez dans un petit magasin d'antiquités ou que vous vous promeniez dans la ville, vous pouvez trouver votre chemin vers Paris grâce à la magie d'Internet.
----------------------------------------------------------------
Lien Zoom: https://woyago.zoom.us/j/89767208607?pwd=SG5tMVA4eGxKbEh2UUVjNVRNRVNnZz09
In celebration of the Mois de la Francophonie, come join us on Saturday, March 12 at 11am and let's discover one of the most beautiful cities in the world: Paris! Discover beautiful sites, hear hilarious stories, and interact in real-time with a Parisian guide as they show you around the City of Lights. A second Parisian guide will provide context, photos, and extra jokes from a second screen. You will also get the chance to learn unique stories from classic monuments: Why was the Eiffel Tower built? Why America made the Louvre as famous as it is?
Maybe this live virtual trip will have you seeing life through a rose-colored computer screen instead of glasses, but it still provides memories for a lifetime. Whether you walk into a small Antique store or stroll around the city, you can find your way to Paris through the magic of the internet.