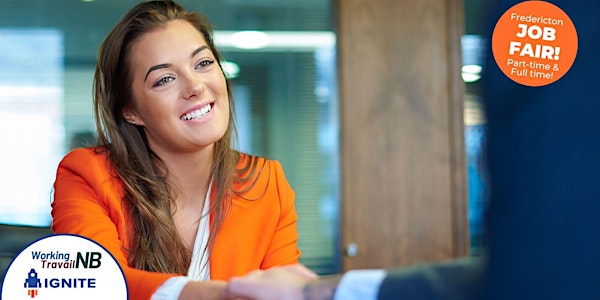 Fredericton Job Fair
The CREW partnership brings you this exciting opportunity to connect with employers in the Fredericton region
When and where
Location
Fredericton Inn 1315 Regent Street Fredericton, NB E3C 1A1 Canada
About this event
When: Wednesday, November 30, 2022
Time: 1:00 - 4:30 pm
Where: Fredericton Inn, 1315 Regent St, Fredericton, NB E3C 1A1
Why Attend a Job Fair?
Great networking opportunities and potential interviews with many employers in a single day
An opportunity to meet employers from various sectors and get your foot in the door
Learn more about different companies and what they have to offer
Put a face with your resume and receive an immediate response
Job seekers- don't delay! Click the "register" button above to register, receive reminders & updates.
Job Seeker FAQ:
How many employers are expected to exhibit in your Job Fair?
We are expecting up to 40 employers and companies to be in this job fair.
What should I bring to the event?
We recommend you bring multiple copies of your resume to hand out.
How should I dress?
We recommend you dress professionally. Think of the job fair as if you were interviewing. You will be talking to many different companies who are looking to hire. Some companies may even want to interview you while at the event!
I am an employer. How can I participate?
If you are interested in participating as an employer, please contact Nausheen Ali, Manager Workforce Development at Ignite Fredericton, at nausheen.ali@ignitefredericton.com.
Pourquoi participer à une foire de l'emploi ?
Des opportunités de réseautage excellentes et des entrevues potentielles avec de nombreux employeurs dans une seule journée
Une opportunité idéale pour rencontrer des employeurs de différents secteurs et de laisser une bonne impression
Apprenez-en davantage sur de différentes companies et ce qu'elles peuvent vous offrir
Associez votre visage avec votre CV et recevez une réponse immédiate
Chercheurs d'emploi - ne tardez pas ! Cliquez sur le bouton "enregistrer" ci-dessus pour vous inscrire et pour recevoir des rappels et des mises à jour.
FAQ des chercheurs d'emploi :
Combien d'employeurs sont attendus à votre foire de l'emploi ?
Nous attendons jusqu'à 30 employeurs et entreprises à cette foire de l'emploi.
Que devrais-je apporter à l'évènement ?
Nous recommandons que vous apportez plusieurs copies de votre CV pour les distribuer.
Comment je devrais m'habiller ?
Nous recommandons une tenue professionnelle. Considérez cette foire comme une entrevue. Vous parlerez à plusieurs entreprises différentes qui sont à la recherche d'employés. Certains employeurs pourront même vouloir vous interviewer pendant l'évènement !
Je suis un employeur. Comment puis-je participer ?
Si vous êtes intéressé de participer en tant qu'employeur, veuillez s'il-vous-plaît contacter Nausheen Ali, responsable du développement de la main-d'oeuvre chez Ignite Fredericton au nausheen.ali@ignitefredericton.com.