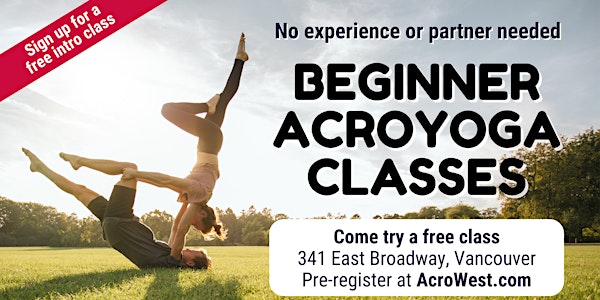 Multiple dates
Free Beginner Acroyoga Class (Vancouver)
Come try Acroyoga! No experience or partner required.
By AcroWest Movement Society
Date and time
Tue, Jun 29, 2021 6:00 PM - Sat, Feb 24, 2024 4:30 PM PDT
Location
Ache Brasil Academy 341 East Broadway Vancouver, BC V5T 1W5 Canada
About this event
First time? Please pre-register on AcroWest.com and show up 10 minutes early. Thanks!
Hey y'all! We're teaching Beginners Acroyoga! There will be games, there will be fun, and we'll provide a safe welcoming environment to learn the basics, refine your skills, make some new friends, and have a great time.
COMMONLY ASKED QUESTIONS:
BC Covid Rules: There are currently no covid restrictions. Masks are optional.
Do I need experience? No, this is a class for beginners.
Do I need a partner? No, you'll be working with others in the class in groups of 3-4.
Can I stay in a group with my friend/partner? Yes, that's no problem.
How do I attend? Just pre-register at acrowest.com and show up!
WHAT IS ACROYOGA?
Acroyoga is a form of partner yoga made more playful by the influence of acrobatics. Practicing Acroyoga involves finding static poses and moving through flows with a Base, a Flyer, and most importantly, a Spotter. The Base elevates the Flyer off the ground in these poses, and the Spotter keeps everybody safe and in proper alignment. Acroyoga is immensely fun and guided almost entirely by a spirit of playfulness and community.
To see some Acroyoga in action, check out this great youtube video, What is Acroyoga.
https://youtu.be/AakoEVKizLY
WHO SHOULD ATTEND THIS CLASS?
Everyone is welcome and we invite you to take this class especially if you have never done Acroyoga (or any other form of yoga) before! We want to give you the foundations of Acroyoga and set you up for safe, fun, lasting play. If you can't touch your toes, feel intimidated by flashy Instagram posts, or think "I could never do that", then this class is tailor-made just for you. We make it safe and easy.
DO I NEED TO BRING A PARTNER?
No, you don't need to bring a partner as you'll be working with others in the class to develop skills basing, flying, and spotting with a variety of people. Also, this makes it easier to meet other acroyogis! Note that if you bring a partner and want to work with them the entire class, that's okay too!
WHAT IF I DON'T WANT TO DO SOMETHING?
This is a very fun, friendly class and you don't need to do anything you don't want to do. It's okay to ask for an easier move, it's okay to take a break and sit out for a while and just watch, and it's okay to only practice some of the roles (base, flyer, spotter). A huge part of acroyoga is communication, and practicing that with partners and classmates in the moment will actually accelerate your skill development.
DO I NEED EXPERIENCE? WHAT IF I'M NOT FLEXIBLE/STRONG/ATHLETIC?
You don't need any experience. We have taught many absolute beginners and they were amazed at what they could do. Wherever your starting point is, we will meet you there and teach you the foundations.
WHAT DO I WEAR AND BRING?
Wear clothing that you feel comfortable moving in, and a water bottle to keep you hydrated.
WHEN AND WHERE IS IT?
You can find the latest schedule and locations on AcroWest.com.
WHAT DOES IT COST AND HOW DO I SIGN UP?
Your first class is free! And after that, we have drop-in, monthly, and by donation passes available. Pre-register on AcroWest.com to sign our waiver and reserve a spot in the class.
WHO IS ACROWEST?
AcroWest Movement Society is a non-profit committed to promoting acroyoga and movement classes in Vancouver. All of our revenue goes directly to expanding our community and promoting recreational acroyoga and movement classes in the Greater Vancouver Area. If you'd like to learn more or help with our mission feel free to get in touch.
If you have any questions or concerns please contact us. You can reach us on Facebook Messager at http://m.me/AcroWest/ or via email at info@acrowest.com
About the organizer
We are a Vancouver-based non-profit society dedicated to fostering fun, active, and connected communities through acroyoga and movement!