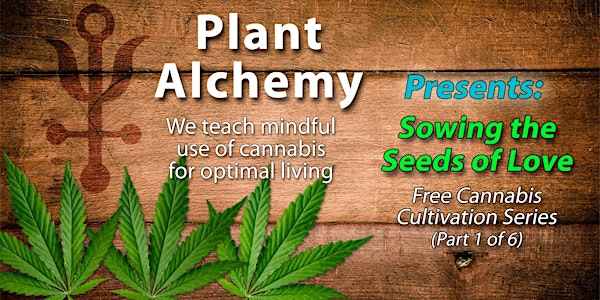 Free Cannabis Cultivation Series - Sowing the Seeds of Love (Part 1 of 6)
When and where
Location
Plant Alchemy 446 King Road Richmond Hill, ON L4E 2Y8 Canada
Description
Robert Louis Stevenson said "Don't judge each day by the harvest you reap, but by the seeds you plant". One truly beneficial seed that has many people captivated is the cannabis seed!
Those who enjoy and value cannabis, often find their experience with the plant is greatly enhanced when they grow their own (which is now legal in Canada!). We've designed a free talk and demonstration series for those who want to learn about the art of cannabis cultivation.
At Sowing the Seeds of Love (Part 1) you'll learn about:
~ the germination process
~ how to plant and care for seedlings
~ the difference between auto flower, feminized and regular seeds
As experienced growers, we'll take you through a live demonstration, and a step by step guide of curated visuals, (a gift for you to take home), to show you the first stages in the lifecycle of a cannabis plant. Whether you're a seasoned gardener or someone who's canna-curious, you'll take away tips and insights that'll help you gain confidence and experience pleasure when growing your own plant medicine.
Our 6-part free series is designed to give you practical information on growing your own cananbis. Our series is timed out over several months to mirror the natural growing cycle of the cannabis plant - from seed to harvest and curing.
SPACE IS LIMITED
There's no obligation to come to all 6 parts, we'd love to have you when you can make it.
Here are the dates for the second round of our 6 Part free talk series:
Part 1 - Sowing the Seeds of Love: May 15
Part 2 - Grassroots: June 5
Part 3: Pests Be Gone: June 26
Part 4: A New Generation: July 24
Part 5: Flower Power: Aug 7
Part 6: Harvest Moon: Oct 2
All the Flowers of all the tomorrows are in the seeds of today - Chinese Proverb
BOOK YOUR SPOT NOW!!
For questions call Tara @ 289-772-6430 or Tom @ 647-716-7746