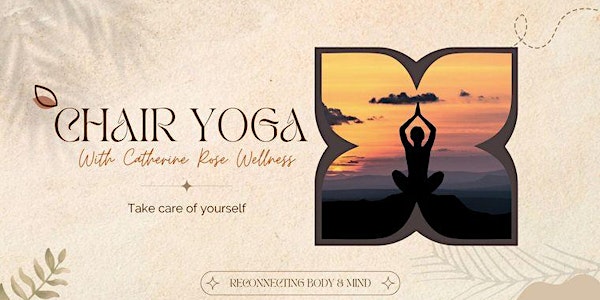 Free Chair Yoga Class
NLSACPC Reconnecting Body and Mind Session #10 - Free Chair Yoga Class
When and where
Location
15 Hallett Crescent 15 Hallett Crescent Suite 101 St. John's, NL A1B 4C4 Canada
About this event
Event Details:
Join us for a relaxing, restorative yoga class in a safe and supportive environment! Hosted by Catherine Rose Wellness. All materials are provided, and participants get a free water bottle! This class is fully accessible and open to individuals impacted by sexual violence (18+). This workshop takes place at 15 Hallett Crescent on Wednesday, August 17th, from 6:30-8:30 pm. ASL interpretation, childcare stipends, and travel assistance are available upon request.
About Reconnecting Body and Mind:
Thanks to the NL Community Living Fund, Reconnecting Body and Mind is a free weekly skill-building and healthy living peer support group for people impacted by sexual violence. Sessions will include movement classes, nature walks, art, and nutritious cooking classes. Each week, participants leave the workshop with a new skill and/or a physical gift to take with them!
All sessions are held at the NLSACPC office (15 Hallett Crescent) or other locations throughout St. John's. We strive to make all sessions fully accessible, but we recognize that this is not always possible due to budget constraints. However, all locations will be accessible by bus and have parking available.
For more information, please email Programs@EndSexualViolence.com, visit www.EndSexualViolence.com, or call the Centre at 709-747-7757 (Ext. 1)
Stay tuned for more announcements on upcoming Reconnecting Body and Mind workshops!