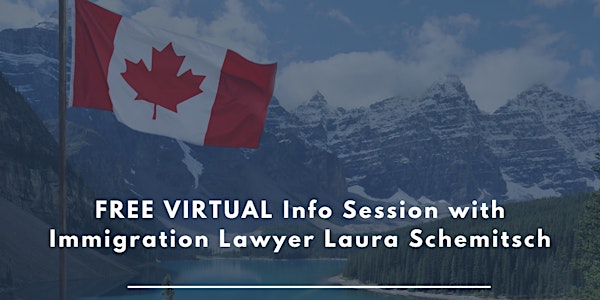 Free Information Session with Immigration Lawyer Laura Schemitsch
FREE VIRTUAL INFO SESSION WITH SEA TO SKY IMMIGRATION LAWYER LAURA SCHEMITSCH.
About this event
FREE INFO SESSION WITH IMMIGRATION LAWYER LAURA SCHEMITSCH.
Are you interested in more information about temporary and/or permanent residence in Canada? Thinking of applying for Canadian citizenship?
Thinking about applying to an immigration program for yourself or a family member?
Join Race & Company LLP Lawyers for a free virtual information session on:
🔹 Visitor visas and extensions
🔹 Parent and grandparent super visas
🔹 Work permits
🔹 Study permits
🔹 Family/spousal/common-law sponsorships
🔹 Working holiday visas
🔹 Express Entry, BC's Provincial Nominee Program
🔹 PR card renewals and citizenship.
This FREE virtual information session will provide more details about program eligibility, processing times and the new immigration law services provided by Race and Co.
This event will be hosted by Race and Co's Laura Schemitsch, the only immigration lawyer in the Sea to Sky corridor. Laura Schemitsch joined Race and Co LLP in November 2021 and is a dedicated immigration and refugee advocate.