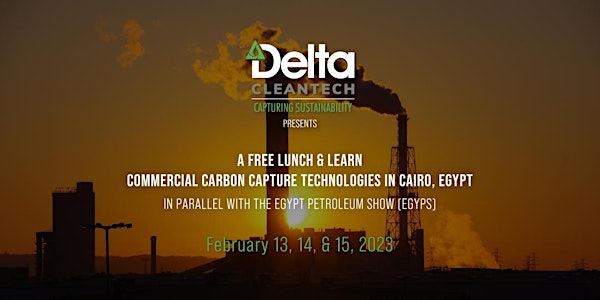 Free Lunch & Learn for Carbon Capture Technologies
Free Lunch & Learn to discuss commercially available Carbon Capture Technologies for the removal of CO2 and production of Blue Hydrogen.
Date and time
Mon, Feb 13, 2023 2:00 AM - 3:00 AM PST
About this event
Dr. Ahmed Aboudheir, Chief Technology Officer of Delta CleanTech, will highlight proven technologies which will assist your company to meet the Net Zero Footprint targets declared during the COP 26 and 27 UN Climate Change Conferences. The technologies of CO2 capture presented in this session specifically target the emissions from industrial point sources such as natural gas processing, oil refineries, blue hydrogen production, cement plants, chemical productions, power generation, etc.
The event will conclude with a networking session which will provide an opportunity to discuss current and future CO2 capture projects with the technology providers and the EPC companies that attend the lunch & learn.