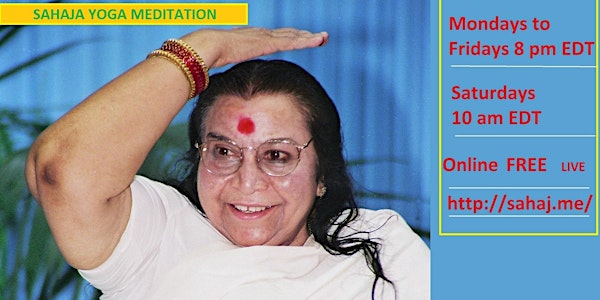 FREE Meditation - Daily Online Guided Sahaja Yoga sessions
Mondays to Fridays: 8 PM Toronto/New York time(6PM Calgary/ 7PM Mexico City) Saturdays: 10 AM Toronto/New York time (4PM Rome/7:30PM India)
About this event
Sahaja Yoga Meditation, Online sessions are offered, for free, to those wanting to learn how to meditate. Chrome Browser on a Laptop works best.
Join us today and every day except Sunday for the daily guided online meditation classes. We have hosts from different parts of Canada to enhance collective meditation experience. Hosts are of multicultural background and professions like Doctors, Healthcare & IT professionals, Homemakers, Engineers, Musicians, Teachers, Students and can speak many languages.
Mondays to Fridays: 8 PM – 9 PM EDT Toronto/New York time (6 PM Calgary/ 7 PM Mexico City/ 10 AM Sydney next day)
Saturdays 10 AM – 11 AM EDT Toronto/New York time (9 AM Mexico City/ 4 PM Rome/ 7:30 PM Delhi)
Mondays to Wednesdays are beginner classes focusing on activating our inner energy to get to a state of Thoughtless Awareness.
Thursdays to Saturdays will cater to more intermediate attendees who want to go a bit deeper with different techniques (like foot soaking). Beginners are welcome to join, just let us know it's your first/second time.
Sahaja Yoga Meditation is provided for free by VND Educational Society, a Registered Charity in Canada