Sales Have Ended
Registrations are closed
This group has started already. We run these groups weekly. You can find the link to the next group on eventbrite and on our website at dialecticalliving.ca Looking forward to seeing you next week!
Sales Have Ended
Registrations are closed
This group has started already. We run these groups weekly. You can find the link to the next group on eventbrite and on our website at dialecticalliving.ca Looking forward to seeing you next week!
Join us for our ONLINE Color Me Skillful Event! Get a free page from our DBT colouring book. Bring your pencil crayons!
About this event
Come out and join us for an online Color Me Skillful Event!  We are here to support you during the holidays, and believe that one way to get through this potentially difficult time is by having something safe, soothing, and fun to look forward to.
Our DBT Colour Me Skillful colouring book, available on Amazon now - the perfect stocking stuffer!
Order your Colour me skillful colouring book on amazon here!
Receive 1 image for free! If you like DBT and animals this is the event for you!
Bring your colouring pencil crayons and printed colouring page (sent by email to you beforehand). You will need a printer to print it out yourself from home.
We will send out a list of images of our colouring book pages beforehand and you can choose your image. Then you'll receive a full-size page that you can print out.
While colouring our images we will be discussing and refreshing our skills particularly distress tolerance skills.
After you sign up choose an image (image choices below) and email Julie with your choice(see below for contact). You may also request a document with all the sample images from our colouring book and you can choose which one you would like us to send you in PDF for you to print. You will require a way to print the pdf colouring page in order to have day of. Please sign up by December 8th at noon to give us time.
OR
The colouring book is availble on Amazon if you wanted to purchase it you will then have ALL the images so you won't need to request just one image as you could have ALL of them. Great xmas gift/ stocking stuffer also for loved ones or for yourself!
https://www.amazon.ca/Colour-Me-Skillful-Using-Dialectimals/dp/1089925964/ref=sr_1_1?keywords=colour+me+skillful&qid=1637867018&sr=8-1
Let the radical acceptance unicorn, the pros and cons snake, the soothe the senses turtle, the please penguins and the wise mind owl take you on a journey toward building a life worth living. 
This group is for anyone beginner or advanced DBT'er and is ONLINE.
We will be meeting using zoom and you will be sent a link prior to group.
Looking forward to colouring with you!
See you on colouring day!
Here are the images to choose from below. Please email julie@dialecticalliving.ca with your choice by December 8th at 4pm. Thanks!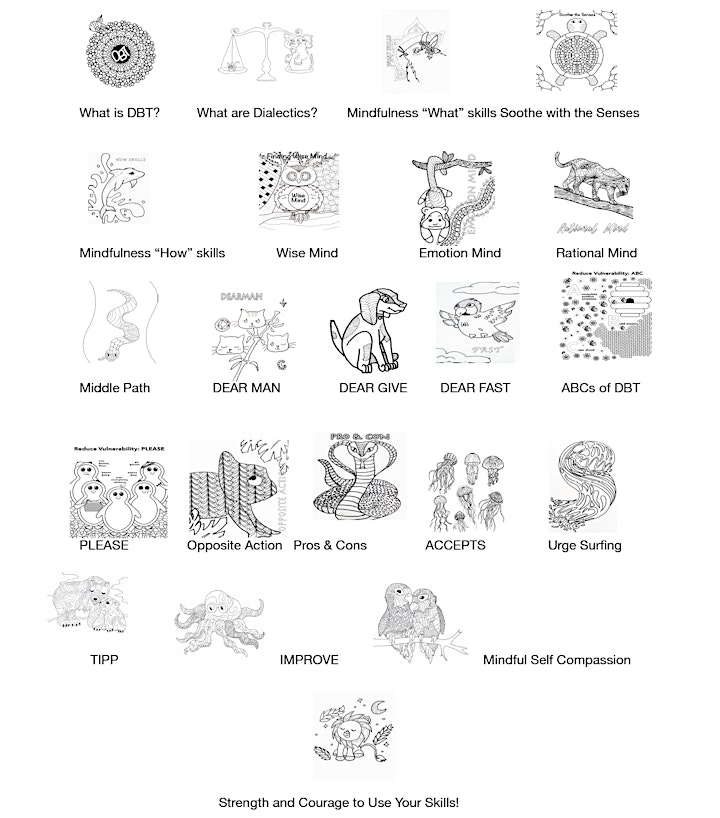 Organizer of FREE online Colour me skillful event: Celebrating Dialectimals!
Recognizing the extreme need for services, Dialectical Living was formed to provide Dialectical Behaviour Therapy (DBT) skills and support to those in need. We would like to reduce the needless suffering for many by offering more options to acquire skills learning and support. We strive to create a safe environment to learn and grow. Our mission is to enable those who struggle with emotion regulation and their families and friends a better quality of life; as Marsha Linehan says "a life worth living".
We are a group of individuals who are passionate about helping others and teaching and using DBT skills. Each of us have lived experience and use the skills in our own lives successfully. We are registered social workers, social service workers, addiction counselors and peer support workers professionally who are leading successful lives using DBT skills and who want to give back to the community to help bring others out of the dark into happier more fulfilling lives.
Julie Hayden, MSW, RSW, Social Worker, Executive Director
Julie is a social worker with an extensive background in Dialectical Behaviour Therapy (DBT) training with Shelley McMain (UofT and CAMH) as well as with the Linehan Inst. She is also trained in facilitating family groups having completed the Family Connections DBT program with Alan Fruzetti (NEABPD). Coming from a place of truly knowing, in addition to her training, her skills as a therapist often help her client's make changes they never thought possible. Julie instills hope and courage in families of loved ones who struggle with emotion dysregulation helping families understand the disorder and find compassion in the chaos. She is also a certified yoga teacher having studied yoga for mental health and addiction. Julie is passionate about creating awareness for mental health and reducing stigma and has worked on anti-stigma campaigns and is currently working on a documentary, "Life on DBT". Julie's lived experience and her energy, passion and sense of fun interaction inspire positive change in others.
Elizabeth Osel - Peer Support Worker/Program Developer/Group Facilitator
Elizabeth is a peer support worker with deep experience in DBT, DBT for families, mindfulness, mindful self-compassion, as well as other healing modalities. She has a long-time committed daily mindfulness practice, and brings depth, knowledge, and passion to every session she facilitates. Clients are drawn to Elizabeth's peaceful energy and her emphasis on the healing power of self-validation, gentle mindfulness, and her teaching of radical acceptance infused with self-compassion. 
Lucy Xie, MSW, RSW, Group Facilitator
Lucy is a Registered Social Worker with her BSW from University of British Columbia and MSW from University of Toronto. Lucy has experience working in mental health & addiction with specialties in operational stress injury, brain injury rehab, attachment issues, and women's mental health. She is passionate about clinical practice, research, education and advocacy around issues related to BPD and complex PTSD. She combines sound clinical knowledge with enthusiasm, humour, and radical genuineness.
Chloé Rosemarin, Social Service Worker, Peer
Chloé is a group facilitator who comes to DBT with a trauma-informed lens, as well as strong knowledge of substance use and how it intersects with emotional pain. Chloé's been passionate about mental health education for over a decade, and has previously worked in supportive housing dedicated towards people managing their mental health and/or substance use. Chloé is known for being very straightforward which many people find helpful when they don't know where else to turn.
Rachel Goldberg, MSW, RSW, Group Facilitator
Rachel is a registered social worker and a recent graduate of the University of Toronto's Master of Social Work program. She is a new and enthusiastic student of DBT and a facilitator in training with Dialectical Living. Her previous work includes individual and group counselling at a family health team as well as several years of experience as a teacher in both Canada and Mexico. In addition to facilitating groups, Rachel will be designing online courses for DL—keep an eye out for these on our website! When she is not working, Rachel enjoys travelling, cooking, and teaching Spanish.