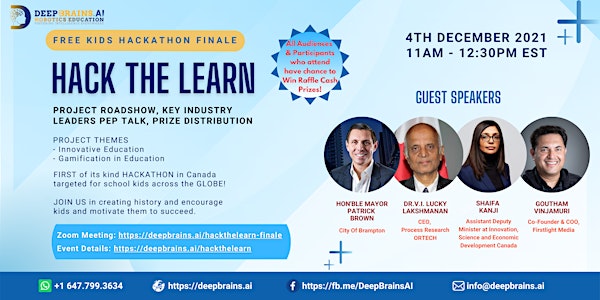 FREE Online Event | Kids Global Hackathon Finale | Industry Pep Talk |Dec4
FREE Online Global Hackathon Finale. OPEN FOR ALL. Dec 4 11 AM-12:30 PM EST. Industry Leaders Pep Talk. Register to Win Raffle Cash Prizes.
About this event
Greetings from DeepBrains AI & Robotics!
Viewers/ Audiences/ Participants, please register for FREE for the Hackathon Finale event on Dec 4th (11 am - 12:30 pm EST) & be eligible to win a raffle cash prize. Winners will be announced at the end of the event.
Zoom link: https://deepbrains.ai/hackthelearn-finale [Click to register for the event to get personalize zoom meeting link]
One more lucky opportunity for your kids!! Win up to $100 CAD cash prize for 'An incredible Idea on Online Education Theme'. Participants (all ages) must be ready with an innovative idea & how it would benefit the community & submit them via poll at the beginning of the event (by 11 am EST). Winners will be announced by 12:15 pm EST.
On Nov 10th, we kicked off #HacktheLearn, a one-week Global Online Hackathon for participants aged 8-17 years old. This Hackathon series is FIRST of its kind in Canada targeted at school kids across the GLOBE!
So let us create history by joining the event and encouraging kids/ motivating them to succeed. Following guests & speakers will be joining us!
Best part? Amazing project submissions! Participants compete for prize money up to $2000 CAD prizes among different age groups.
Our hackers helped us in bringing innovation from the corporate world to schools. Apart from technical Coding experience, students experienced how to develop a project from scratch, how to lead a project, collaborate with various team members with various skill sets across different time zones, be product innovators and entrepreneurs. Be ready to listen to them on Dec 4th & win raffle prizes!
For more info, visit us at https://deepbrains.ai/hackthelearn
Thank you,
DeepBrains AI & Robotics
+1 (647) 799 3634
https://deepbrains.ai
info@deepbrains.ai
Facebook Page: https://www.facebook.com/DeepBrainsAI
Organizer of FREE Online Event | Kids Global Hackathon Finale | Industry Pep Talk |Dec4