Multiple Dates
Free Online Korean-English Conversation Exchange Calgary-Edmonton/Alberta
Sales Have Ended
Registrations are closed
Join free meetings at: https://discord.gg/k68wjmg
Sales Have Ended
Registrations are closed
Join free meetings at: https://discord.gg/k68wjmg
Korean & English conversation exchange; Korean Conversation Club (KCC) Calgary & Edmonton (with KGK East Asian Studies Students Association)
About this event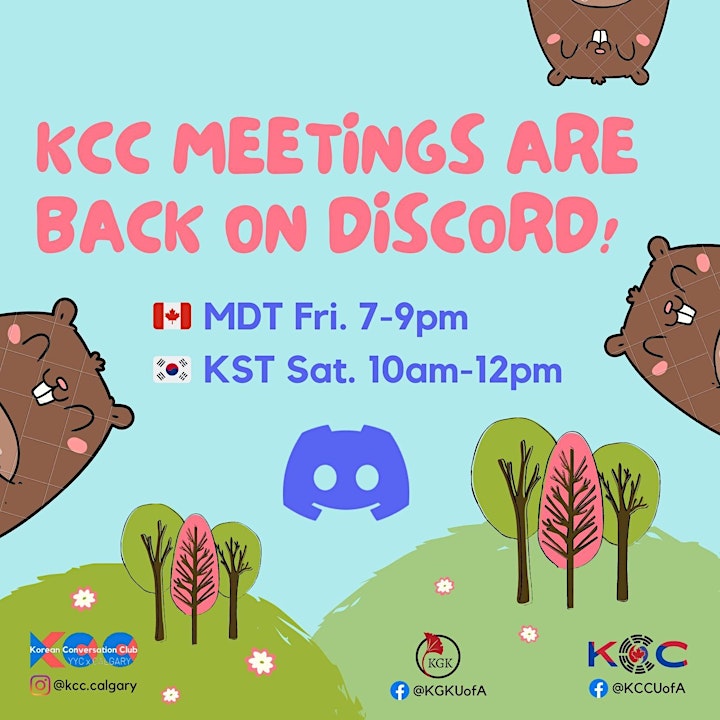 Weekly spring Korean & English conversation/language exchange meetings/sessions Alberta MDT Fridays, 7-9pm / South Korea KST Saturdays, 10am-12pm.
Open to anyone and everyone, everywhere all over the world, for all language levels/abilities (beginner, intermediate, advanced, and fluent)!
Join in the conversation, meet people, practice languages, and make new friends!
Hosted together by the Korean Conversation Clubs (KCCs) in Calgary & Edmonton (with KGK: East Asian Studies Students' Association) online on the Discord platform.
~7:00pm – English
~7:30pm – Korean
~8/8:30pm – Games
Questions? Ask on our
Website: https://calgarykcc.wordpress.com/contact-kcc/#form
Instagram: https://www.instagram.com/kcc.calgary
Calgary's new Facebook: https://www.facebook.com/KCC.Calgary.KoreanConversationClub
Edmonton's Facebook: https://www.facebook.com/KCCUofA
New LinkedIn: https://www.linkedin.com/company/korean-conversation-club-kcc-calgary-yyc-alberta-canada
Organizer of Free Online Korean-English Conversation Exchange Calgary-Edmonton/Alberta
Thank you for your interest in KCC; we are more than happy to have you join us!
KCC is a great way to learn, study, practice, and exchange languages and cultures with others face-to-face, in-person, in small social groups, in a mixed-class format! At KCC, you can meet new people, make new friends, socialize, and build a sense of local and global community spirit and belonging through international, multi-cultural conversation!
KCC is open, inclusive, and diverse; we welcome anyone and everyone from all nationalities/citizenships, ethnicities, cultures, heritages/ancestries, religions/faiths/spiritualities, genders, and ages from the later-teenage years and above! Members can be local or international students/learners (including people who are self-taught/self-study), AND/OR people who work at jobs (including people with work visas/permits). KCC is also open to all language skill levels in Korean AND/OR English, like beginner, intermediate, and advanced, so there is always someone for you to talk to!
https://calgarykcc.wordpress.com/