Join our free online Mindfulness Conference and workshops from June 23rd – June 25th!
About this event
Are you interested in learning more about how to strengthen yourself, your family, or your community through mindful approaches to mental well-being? We invite you to join our free online Mindfulness Conference and workshops hosted by The Immigrant Education Society (TIES) from June 23rd – June 25th.
As the COVID-19 pandemic is ongoing, mindfulness and mental well-being have increasingly become important and useful areas to explore for everyone, whether they must isolate from family and friends, work in front-line service industries, or adapt to new and changing circumstances. At this online conference, join esteemed international experts as they introduce mindfulness practices that you may carry throughout your life. Workshops include:
• Mindfulness-based cognitive therapy for life (Willem Kuyken, Ph.D., DClinPsy., Director of the Oxford Mindfulness Institute)
• Mindfulness for burnout prevention in healthcare providers (Dr. Andrea Grabovac, MD, Fellow of the Royal College of Physicians of Canada)
• Meeting loneliness and social isolation with mindfulness (Tom Heah, M.Sc.)
• Strengthening the mental well-being of Alberta's immigrants (Panel discussion)
Registering through Eventbrite means we have your permission to process your order on the Whova event page on your behalf. Alternatively, you may register yourself at: http://bit.ly/TIESMC2021.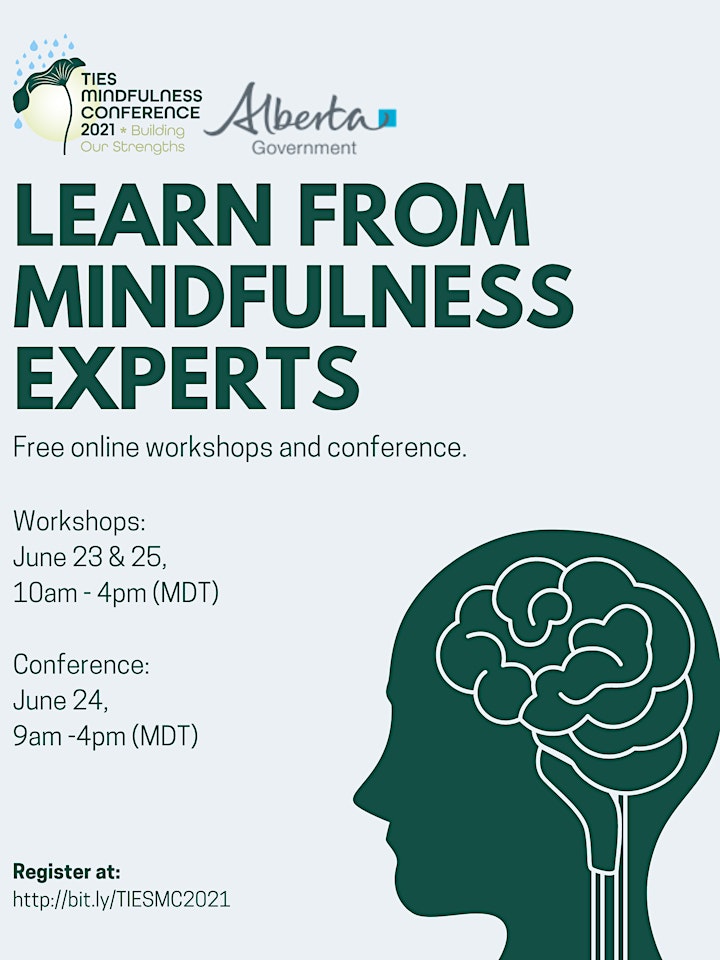 Organizer of FREE Online Mindfulness Conference – Hosted by TIES
With humble beginnings in 1988, The Immigrant Education Society (TIES) grew from a small volunteer-led initiative with only Mr. Salim M. Sindhu as its steward, to a 200+ staff not-for-profit charitable organization with three locations in northeast and southeast Calgary. Devoted to assisting immigrants and low income Canadians through various levels of language and employment training and settlement programming, TIES has provided tens of millions of dollars worth of service to over 250,000 newcomers in its 30+-year history. Today, TIES assists over 1,400 students a day, 7 days a week, with programs in-house and online.