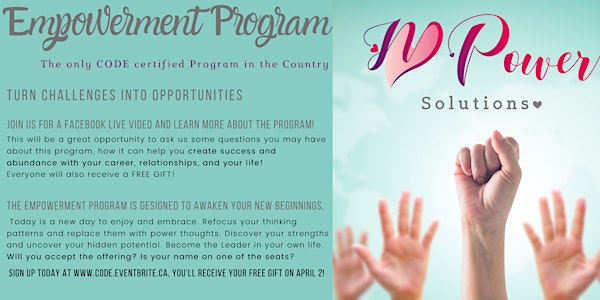 Free Online Offering- Empowerment Program
It's time for you to live an Empowered and Successful Life!
About this event
Join in on a Facebook Live event to learn more about the program. This will be a great opportunity to ask us some questions you may have about this program, how it can help you create success and abundance with your career, relationships, and your life! Everyone will also receive a FREE GIFT! Link to the facebook page for the online event is:
www.facebook.com/DiscoverTheCode
Empowerment Program with CODE Certification:
Improve your Communication, increase your Optimism, embrace healthy Decision-Making skills and live an Empowered Life.
This 4 week certified course is excellent for those interested in Professional and Personal Development and individuals looking to live their best Life. Perfect for those who are seeking: a career change, gain tools to help with personal success, create healthy relationships, expand your customer base and understand your individual clients needs.
This course is a must for anyone in sales, service industry, public relations or marketing. Also for those discovering your true purpose.
Focus forward with the CODE. You will receive a personal coaching manual to guide you through your future success and you will be able to refer to when needed. The 4-week program will involve exciting training tools and reflections in an inspired group setting. This course will be taught consecutively in 4 sessions. You must attend all 4 sessions to complete your CODE certification. This is a fabulous offering intended to add phenomenal value to your daily life and bring you some clarity with a map for empowered success.
CODE Certified: Your certification will give you an edge in Leadership, Communication and Decision Making. As an Authentic Communicator you will have knowledge of what it takes to lead with clarity and empowerment. The time has come for inspired leadership and it begins with your own life.