Description
Christmas is just around the corner which means we're dreaming of cozy dinners with friends and family, oven-roasted turkey, delicious cranberry sauce, pie, and the inevitable food coma that follows immediately after!

The Ross family's fresh free-range turkeys are your best option for your local holiday feast. Located in Wellington County (north of Waterloo), Buck Ross and his family have been farming for four generations. They're the only commercial producers in Ontario allowed to grow fully free-range turkeys. Their turkeys enjoy fresh air, direct sunlight, large outdoor yards, fresh water, and all-natural locally-grown feed.

The Mustard Seed's sourcing priorities guide the products we stock. "Ethical Animal Practices" is one of our core values because we know that consuming meat involves an animal giving its life to feed us. We therefore have a responsibility to know the conditions that animal experienced. We recently visited the Buck Ross at his farm - read about it and check out our photos here.
These turkeys will range from 14-25 lb, and are priced at $3.99/lb. Be sure to place your order soon! These turkeys are naturally raised, so the size ranges are estimates and we can't guarantee the weight of the turkeys that we'll receive. Come early for pickup to have the best selection of sizes to choose from.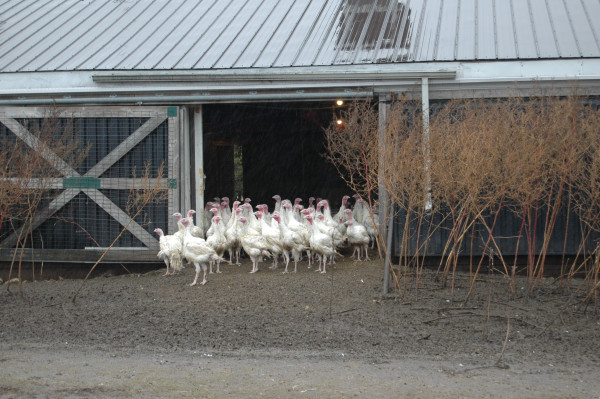 Free range turkeys from Ross Farm in Wellington County.